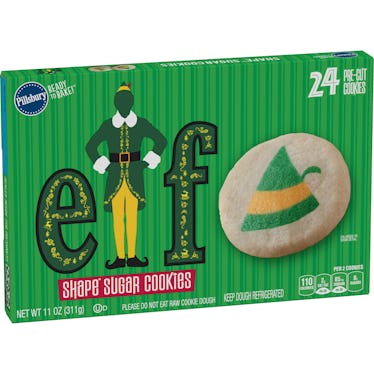 Buddy The Elf Sugar Cookies Are Coming To Shelves Near You For The Perfect Holiday Treat
Pillsbury
When it comes to holiday movies, there are a few classics that come to mind. I know everybody's got their own list of holiday favorites, but Elf is a must-watch movie for me every December. That's why I'm super excited about Pillsbury's Buddy The Elf Sugar Cookies. Best. News. Ever. I haven't seen these cookies before now, but they are going to be the perfect holiday treat to enjoy while I kick off my holiday movie marathon.
These aren't just your regular break-and-bake sugar cookies, either. I mean they are, but these specific cookies have a little something extra that's bound to put you in the holiday spirit. These sugar cookies from Pillsbury feature Buddy the Elf's green and yellow hat. As you may know, Buddy the Elf is played by the hilarious Will Ferrell. Elf was released in 2003, so it's no doubt earned a righteous spot on my must-see holiday movie list.
Pillsbury's Buddy The Elf Sugar Cookies aren't available just yet, but hopefully sometime soon. It's not even Halloween but the Elf-themed sugar cookies have already been listed on the Target website, as reported by Delish. Per Target, each pack of Pillsbury's Elf Shaped Sugar Cookies comes with 24 pre-cut cookies. That should be enough to get you through all 97 minutes of the movie, right? I'll be stocking up on several boxes of these bad boys.
In addition to Target, Pillsbury's Buddy the Elf Sugar Cookies will also be available for purchase at Walmart and Kroger, Meijer, Albertson/Safeway, and Ahold/Delhaize, according to Delish. Let the holiday movie marathon planning commence. Just don't forget a plate of these cookies.
I'm all for a good homemade cookie, but these Pillsbury's pre-cut cookies are legit. Sometimes life is just easier when you don't have to do any work. No mixing required. No giant mess on the countertop. No dishes to clean. All you have to do is preheat the oven, open the packaging, place the sugar cookie dough on a cookie sheet, place it in the oven, and set a timer. Then, voilà! You've got yourself a delicious plate of sugar cookies. Oh, and let's not forget about Buddy the Elf's beloved hat that's front and center on these ooey-gooey sweet treats.
Just one piece of advice: Try not to eat the cookie dough when you're placing the cookies on the pan. I know, I know. It's hard not to because raw cookie dough is undeniably tasty. Seriously, though, take my advice and avoid it, because you could contract Salmonella, according to the Centers for Disease Control and Prevention.
These cookies won't break the bank, either. Based on other similar products, like these ready-to-bake Pillsbury Ghost Cookies from Target, you can pick up a package for less than $3. Two dozen cookies for under $3? Sold.
Maybe you take part in a holiday cookie exchange each year or maybe you just want to snack on a few of these Elf-inspired sugar cookies for yourself. Whatever your holiday cookie habits are, there is really no wrong way to go about enjoying these deliciously sweet cookies. I can't wait to get my hands on a pack (or five) of these.