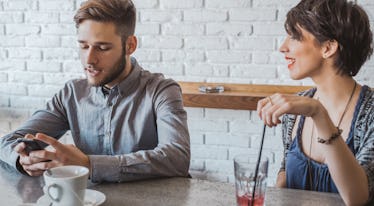 3 Ways To Tell Your Partner To Stop Phubbing, Because It Can Ruin Your Relationship
The day my parents got me my first Nokia cellphone is a day I'll always remember. Even though the following week I was lamenting the unfairness of being the only one in my friend group without a Motorola Razr, for a few short days I was actually content! Cellphones have come a long way from the early days. So far, in fact, that they have become a necessity we spend countless hours of our lives engaging with. Ultimately, this can make putting them down harder than we might have thought. Telling your partner to stop phubbing, a term that refers to snubbing your IRL human companion in favor of your phone, is something that many of us need to be reminded of from time to time. Now I'm sure some of you may be thinking, "What's the big deal? I can multi-task." Well, apparently it could actually be a very big deal.
Research out of the University of Kent shows that ignoring friends and loved ones for the sake of more phone time can negatively impact relationships. So much so, that being phubbed has the potential to "[threaten] our basic human need to belong." If your SO continues to blow you off by excessively using their phone, then it's important that you let them know how this makes you feel. Here are some ways to call them out, calmly and without fighting.