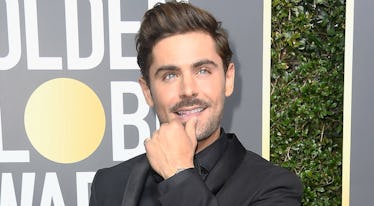 Zac Efron Looks Completely Unrecognizable In Pics From His New Movie & We're SCREAMING
Frazer Harrison/Getty Images
Ummm, you guys, I have some alarming news about what Zac Efron currently looks like. Gone are the days of babyface High School Musical Efron, and even the frighteningly jacked Baywatch Efron — now, we have a bizarre panini-faced, backwoods stoner Efron apparently. The first photos from Zac Efron's upcoming movie with the director behind Spring Breakers show the actor in a whole new light, and not a particularly flattering one. Zac Efron looks unrecognizable in these first photos from The Beach Bum; you just have to see them to believe them.
Strange new photos of Zac Efron with blonde-dyed hair and some perplexingly shaven facial hair started popping up online over the weekend. The photos also feature Efron in a denim vest adorned with various religious patches, saying things like "Prayer warrior," "I'm not perfect, just forgiven," and "Jesus is lord" under a large decal of Jesus' face on the side of a milk carton. Obviously, these pics were pretty perplexing for most of Efron's fans, but they are actually the first shots from his upcoming stoner comedy The Beach Bum. The new movie is written and directed by Harmony Korine, whose most recent film was the shocking Florida crime romp Spring Breakers. Of course, that movie was notable for the extreme makeover of James Franco into a dreadlocked, silver-toothed gang banger/rapper. It looks like what Spring Breakers did to Franco, The Beach Bum is similarly going to do to Zac Efron.
Check out Zac Efron's bizarre new look for The Beach Bum below:
Yeah... so now you see why I was having a rough time trying to describe this new look. The grillmarks on the side of his face are certainly a choice. Apparently, Zac Efron's character in the new movie is named Flicker, which I mean, sure why not?
We will get to learn the full story behind Zac Efron's hyper-Christian, Mad Max-esque makeover later this year, when The Beach Bum is released. The new movie will star Matthew McConaughey as Moondog, described as a rebellious stoner who lives by his own rules (he's the titular beach bum). Isla Fisher will play Moondog's wife, and Efron's Flicker is one of the characters that Moondog will meet on his journey. The movie will also star The Florida Project breakout Bria Vinaite, as well as two of music's most famous stoner icons: Snoop Dogg and Jimmy Buffett. Although the plot is being kept under wraps, this already sounds like a wild ride just from the casting alone.
The Beach Bum will mark an auteur departure for Zac Efron, who has become best known for starring in big-budget comedy movies over the past several years, such as Neighbors, Baywatch, and Mike and Dave Need Wedding Dates. This will be just one of the surprising new roles Efron is taking in 2018, alongside his portrayal of the serial killer Ted Bundy in the biopic Extremely Wicked, Shockingly Evil and Vile. No release date has been announced for The Beach Bum yet, but it is currently in post-production and will likely eye a summer release.
Zac Efron is not the first former Disney star that genre-pushing filmmaker Harmony Korine has worked with. Korine previously directed Selena Gomez and Efron's former girlfriend and High School Musical co-star Vanessa Hudgens in 2012's Spring Breakers, which was meant to mark a distinct break with their child star images. James Franco's dreadlocked rapper character of Alien, modeled after actual rapper Riff Raff, seems to be something of a precedent for this shocking styling of Efron's new character of Flicker. I guess we will just have to wait and see how Zac Efron is going to turn that panini-grilled facial hair into some movie magic whenThe Beach Bum comes out later this year.