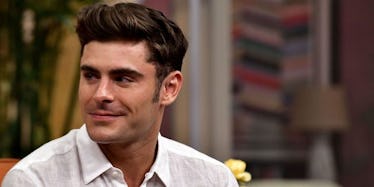 Zac Efron Was Just Cast As A Famous Serial Killer, So Say 'Goodbye' To Troy Bolton
Getty
Moviegoers have come to see Zac Efron in a lot of different lights.
For millennials, he'll always be the musical-loving jock Troy Bolton from "High School Musical," and more recently, he's reinvented himself as one of comedy's go-to funny hot dudes (the other is Channing Tatum).
But what we haven't seen from Zac is a dark side -- all of his roles have been either squeaky-clean teens or raucous party bros.
That is, until now.
Zac just signed on for what could become a career-shifting role, portraying the serial killer Ted Bundy in an upcoming biopic, according to the Hollywood Reporter.
Yep — get ready for Zac Efron, the sadistic, psychopathic murderer. The new movie, called "Extremely Wicked, Shockingly Evil and Vile," will be told from the point of view of Ted Bundy's longtime girlfriend Elizabeth Kloepfer, who denied the grisly accusations about Ted until he confessed to them before his execution.
To this day, nobody is sure just how many murders Ted Bundy was responsible for throughout the 1970s. He finally confessed to about 30 homicides before receiving a triple death sentence and dying in the electric chair in 1989.
Bundy's victims (predominantly young women) described him as handsome and gregarious before he attacked them, so casting Zac Efron makes sense.
But the casting choice does come as a bit of a shock given Efron has been pretty much exclusively starring in comedies like "Neighbors," "Dirty Grandpa" and the upcoming "Baywatch" for the past few years now. The move could indicate a shift in focus towards grittier, more dramatic material for Zac.
And fascinatingly enough, Zac Efron is not the only former Disney Channel heartthrob who's going to be playing a famous serial killer.
Ross Lynch, the Zac Efron for a younger generation thanks to his role in Disney's "Teen Beach Movie," is signed on to play Jeffrey Dahmer in a biopic.
Seriously, Disney Channel: What's up with all your former stars becoming serial killers this year!?
Citations: Cannes: Zac Efron to Play Ted Bundy in 'Extremely Wicked, Shockingly Evil and Vile' (Hollywood Reporter)