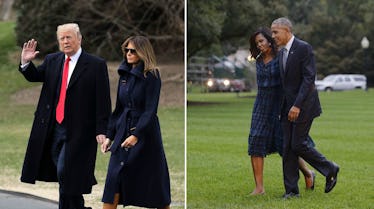 These Photos Of The Trumps & Obamas As First Couples Show Some Big Differences
Chip Somodevilla/Getty Images News/Getty Images/Pool/Getty Images News/Getty Images
We know that President Donald Trump and President Barack Obama had two very different White Houses. Not just because of their political leanings, but also to do with how contentious the Trump tenure has been so far. But what also appears to be vastly different is how Trump and Melania Trump and Obama and Michelle Obama lived together in the White House. These photos of the Trumps and the Obamas show the two pairs have completely different lives as first couples.
The relationship between Trump and Melania has been discussed quite a bit since Trump decided to run for office. It almost seems like the Internet is constantly looking for small details that might give some insight into their marriage. Did Melania swat away Trump's hand? Did she give him a dirty look behind his back? Did she wear a pussy-bow blouse to troll her husband? And why are Trump and Melania dancing like two pre-teens at a middle school dance?
While most first couples look to be pretty happy and cozy in the White House, #SaveMelania and #SadMelania were once trending on Twitter. Either way you look at it, pictures of the Obamas in the White House have a very different vibe than pictures of The Trumps.