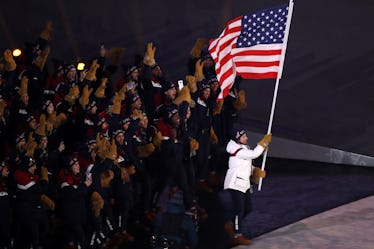 Photos of Team USA's Opening Ceremony Uniforms Will Have You Seeing Red, White, & Blue
Sean M. Haffey/Getty Images Sport/Getty Images
The time has come again, my friends. Normally I don't get #FOMO, but every time the Olympics roll around, I totally wish I was walking with the athletes. Watching them represent our country just isn't the same while sitting on my couch. I just get so excited! And the photos of Team USA's opening ceremony uniforms are finally out and all I have to say is: RL, where's my matching set?!
All winter long, USA inhabitants have been griping about how cold the conditions are outside. Although I can agree that it's been a particularly cold winter, from the looks of Team USA's opening ceremony outfits in PyeongChang, South Korea, the athletes were mighty toasty.
Even though the 2018 Pyeongchang Olympics are reaching low temperatures. I know you're probably thinking, "wow, the Winter Olympics are cold #groundbreaking," but athletes have to be ready for the colder temps. After all, their sports are winter sports, so chances are they're more than ready for the chill. Nevertheless, no matter how interesting the climate is, Team USA definitely looked happy during the opening ceremony. Especially since they came while "Gangnam Style" blared from the Olympic stadium.
Although I'm not an Olympic athlete, my favorite part about playing sports was spirit week and dressing up for the game days. That's probably why I wasn't a star athlete! In high school, my field hockey team always wore our kilts on game day and the team went all out for our breast cancer awareness games.
The athletes are probably more focused on bringing home a medal, but for just one moment, the opening ceremony allows the athletes to revel in all of their hard work. Not to be the annoying glass half-full type, but just making it onto the Olympic team is such a major win. I can only imagine dressing up in the Team USA gear and walking into the ceremony is like their personal version of a pep rally. The stakes are just way higher and the venue doesn't smell like a sweaty gym and concession stand food.
Since 2008, Ralph Lauren has kitted out the athletes so that they can represent the USA. Who am I kidding though, the real competition starts at opening ceremony. Although there's not an award for best dressed country, this year the USA team killed it. (I promise I'm not biased!)
The athletes stepped out wearing slim fit jeans that were designed to have a moto-inspired look, intarsia knit sweaters, USA-themed navy bandannas, leather belts, brown suede explorer gloves with fringe and hand beading, brown suede mountaineering boots with red laces, and they topped off the look with official USA navy wool caps.
At first I had no clue what instarsia was, but after checking out Team USA and Great Britain's looks I did a quick Google. Basically, instarsia is a knitting technique that creates patterns with multiple colors. AKA Team USA is going to be knighted by the Elite Daily Fashion and Beauty team for cutest sweaters ever.
Although I'm proud to be an American, waking up before the sunrise wasn't really in my agenda, until I heard about Team USA's jackets. There was no way I could wait until 8 p.m. EST to see the innovative jackets. After grabbing a much need cup of caffeinated tea, I waited patiently for Team USA. Obviously, the Ralph Lauren team didn't disappoint and these jackets looked so major.
If you aren't aware besides the jackets displaying our beautiful red, white, and blue colors, they also have heating components to keep all of the athletes warm up to 11 hours. Besides that being the millennial technology that's right up my alley, according to Bustle, even though the PyeongChang Olympic Stadium cost $58 million, it was built without a roof and there's no central heating. That's a hard #nocomment for me.
Despite the freezing temperature, Team USA marched through the stadium, selfie poses ready.
And they looked so good.