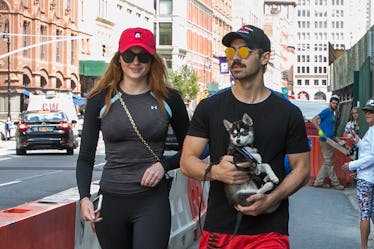 Sophie Turner & Joe Jonas Look Adorable In First Pics Since Announcing Their Engagement
Sophie Turner and Joe Jonas have been really private about their relationship ever since they got together in fall of 2016. Throughout the last year, they've only appeared on one red carpet together (the 2017 Met Gala), and they've kept their relationship pretty much out of their interviews. But they were just spotted walking around Paris together looking trendy AF, and the photos of Sophie Turner and Joe Jonas after their engagement are seriously making me rethink my entire wardrobe.
The best part about the photos (other than their outfits) is that Turner is wearing her a-maz-ing engagement ring from Jonas. The couple announced their engagement on Sunday, Oct. 15 in matching Instagram posts with the respective captions, "I said yes" and "She said yes." The ring itself is a massive teardrop-shaped diamond suspended between two diamond bands. In case you're wondering how much it costs, I have no idea, but I'd bet that I could pay off my student loans with it. The pair seems to be celebrating their engagement in ~the city of love~, aka Paris. Or you know, they're there for work or something. Whatever the case, they're are looking amazing and I want them to take me shopping.
Seriously, look at these two.
Turner's hat is so ~Parisian~. ~I can't stop writing with these squiggles around the sentences~.
Jonas and Turner have been receiving an outpouring of love from friends, family, and fans ever since announcing their engagement on Oct. 15. Let's get a closer look at the ring, shall we?
JFC, that thing is majestic. I think I can see my reflection in it, and I'm literally only looking at a picture of it??
Everyone in the Jonas/Turner circle has been showing their love for the newly engaged couple on social media. Nick Jonas tweeted the above photo of the ring and said, "Ahh! Congratulations to my brother... and sister in law to be on your engagement. I love you both so much. @joejonas @SophieT."
Jonas' parents also commented on the engagement, saying they're "thrilled" to be welcoming another daughter-in-law into the family. A source close to the family told People,
Everybody's very, very happy for them and their family and friends are all thrilled. Everyone loves them together.
They added,
She's young but is beyond her years and is crazy, crazy mature. He's never been like this with a girl. He was such a dater before her but their relationship was much different from the start. She was just the one for him.
Turner and Jonas reportedly were introduced to each other through mutual friends. Even though they reportedly started dating around October/November of 2016, they didn't go public with their relationship until January of 2017 when Turner posted a photo of Jonas on a boat and smoking a cigar on her Instagram. She posted the photo on Jan. 1 with a caption that simply said, "Miami daze."
Although they've kept their romance very private, Turner has opened up about their relationship a few times in interviews. In an interview with InStyle, she said she found it easier to be with someone who was also famous and understood the lifestyle. She said,
I found it easier to date someone who understands the industry or is in that world.
While she does prefer to be with someone who understands the pressure of the industry, she said in an interview with Marie Claire that she feels like she's living in a "fish bowl" because of it. Everyone's eyes are on them trying to learn more about their relationship. She said,
You do feel like you're living in a fishbowl. It's frustrating [that] it's the most mundane things that make the news — how boring!
Despite all that, she also told Marie Claire that she and Jonas were "very happy." Given the fact that they're engaged now, that checks out.