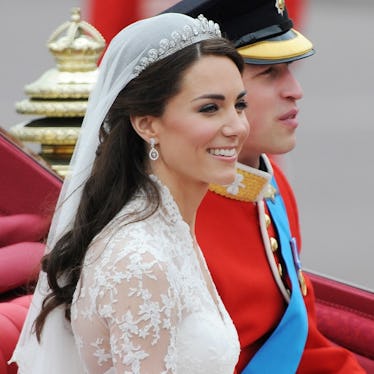 Meghan Markle Needs To Save These Photos Of Royal Wedding Hairstyles On Pinterest, Stat
Getty Images
Here comes the bride, all dressed in white...and expertly balayaged pin curls? The world is officially in the single digit countdown to the royal wedding, and all I can think is about is Meghan Markle's luscious hair. After perusing photos of royal wedding hairstyles from nuptials past, I've noticed that from the gorgeous tiara to the style of curl, wedding hair is just as important as the dress on the big day.
Whether you're getting married or just obsessed with weddings, taking inspiration from past brides can help lead you to your ideal look. Now I don't know about you, but when it comes to hair I'm pretty boring. I tend to either keep it curly or straight, so when it comes to my big day I'm going revisit the styles in every bridal magazine, wedding inspiration Instagram account, and of course, whatever Meghan Markle will rock at this upcoming ceremony seen around the world.
Every bride strives to look her best on her wedding day, but royal weddings are in a league of their own. Not only are wedding guests coming together in the name of love (and the love of fascinators), but people all over the world tune in live. Kate Middleton and Prince William's televised wedding clocked in at a casual two billion viewers. The late Princess Diana's wedding to Prince Charles was viewed by over 750 million viewers worldwide. I'm not sure how many people will tune into the royal wedding, but I can only imagine the pressure Meghan Markle is under.
Seriously, I can't even imagine the pressure of not tripping on your veil in front of a couple of hundred guests. Let alone two billion. As a modern day bride, luckily Markle can draw inspiration from the royals that came before her. And let me tell you, their hair was beyond major.
Queen Elizabeth II
Queen Elizabeth II went full-on classy with her hairstyle and decided to wear her hair in shoulder-length curls. From the photos, it looks like the curls were pinned to keep the entire look super sleek and polished.
Diana, Princess of Wales
Princess Diana was known for thick, short bob, but her bangs are what stand out to me the most. Only Diana could rock bangs on her wedding day while parading around in an open carriage. Perfection!
Catherine, Duchess of Cambridge
Kate Middleton swept into everyone's heart with her personality and iconic waves. On her wedding day, she rocked her long brunette hair in a half-up, half-down style with subtle bends. I'm starting to believe humidity just isn't a thing in Britain.
Victoria, Crown Princess of Sweden
Princess Victoria of Sweden decided to keep her hair refined and simple. Her sleek updo and voluminous bun showcases her jeweled crown in the best way possible. Any other hairstyle wouldn't have done the Princess justice. THAT BLING!
Marie-Chantal, Crown Princess of Greece
For her wedding day, Princess Marie-Chantal of Greece decided to beat mother nature at her own game, and bumped up the volume on her updo. Her light blonde locks shined brighter than her diamond tiara!
Grace Kelly, Princess of Monaco
Grace Kelly is the icon of all icons. Her bridal look is one of the most sought-after looks, and her sleek bun deserves its own title. Interesting to note: her bejeweled veil begins almost at her hairline, and covers most of her head.
Princess Margaret, Countess of Snowdon
With the most dramatic veil in the history of weddings, Princess Margaret paired her look with a dramatic, yet elegant updo. I love that her hair is pulled into little bubble sections, which is popular in 2018. Timeless, much?