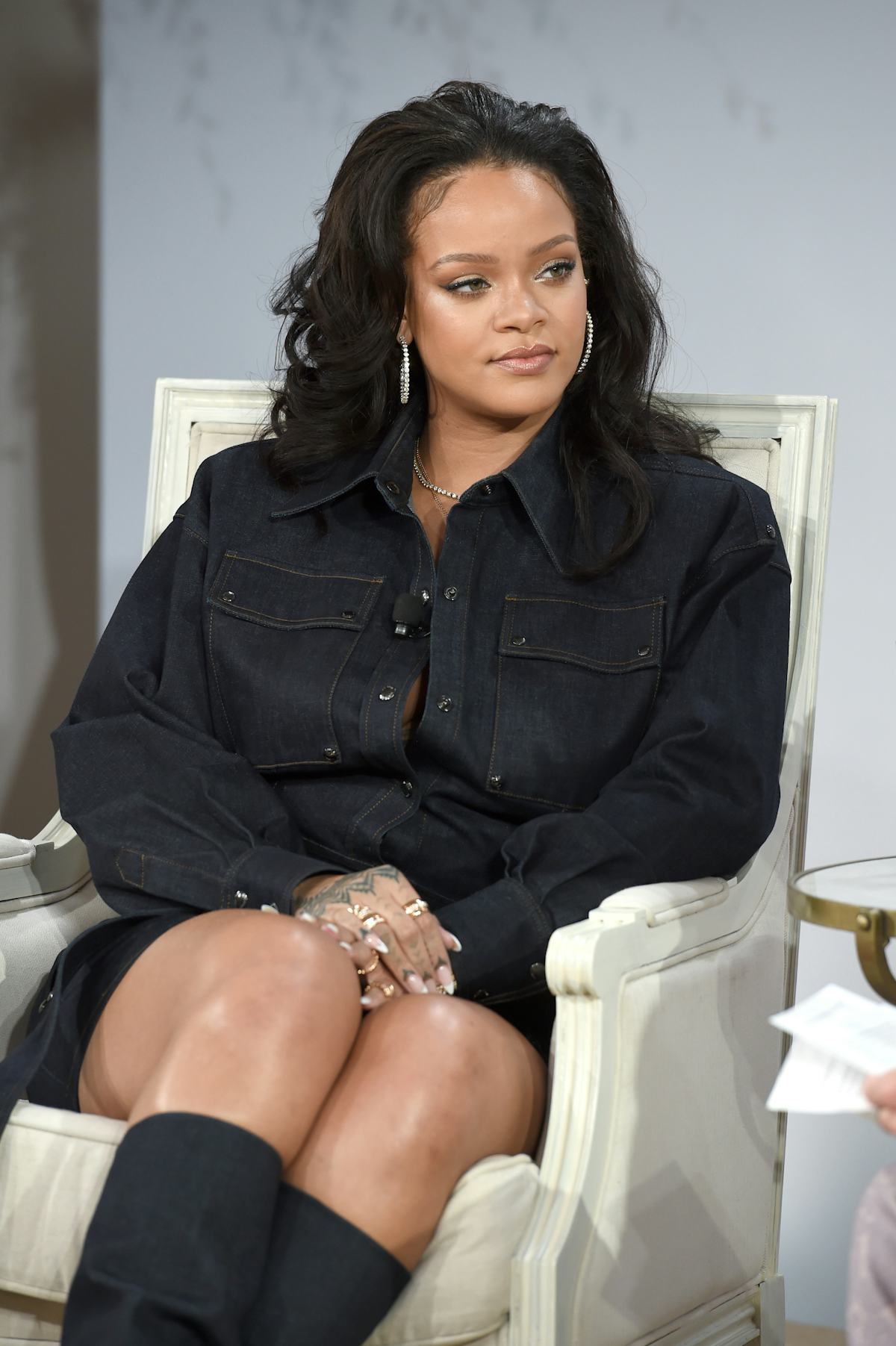 Rihanna Debuted A New Hairstyle & She Looks So, So Different – PHOTO
Dimitrios Kambouris/Getty Images Entertainment/Getty Images
How would we know what's cool and what isn't cool if it weren't for RiRi? Photos of Rihanna's long hair remind us that, oh yeah, luscious long locks are hot AF, and make me wonder (yet again) why I ever thought I could pull off an asymmetrical bob. The singer debuted her new look on an Instagram story, showing off chestnut brown hair that flowed all the way down to her waist. We are all in on this look, RiRi. Obviously.
Rihanna is known for her iconic looks and bold fashion choices. Back in the day, her "thing" was a super short, cropped pixie that would often pop up in a variety of colors. Since then, we've seen her flawlessly maneuver between natural curls, blunt bangs, choppy lobs, and now long, waterfall waves. She's a true fashion and beauty chameleon, and I challenge you to find one thing or style she can't totally rock.
In true Rihanna fashion, she premiered her new look on social media with the caption, "New hurr who di$?"
Um, it's me, Rihanna! It's me! I love your hair!
She is also wearing a slinky black dress underneath a smokin' hot fluffy coat, and topped the whole ensemble off with gold shoes and silver, delicate jewelry. Take a damn look.
Rihanna has been even more involved in the fashion and beauty world ever since the release of her makeup line, Fenty Beauty. She launched it in September and has been enjoying the outpouring of love and rave reviews for the past few months.
According to People magazine, the public is loving Fenty Beauty's "quality-to-affordability ratio" and the brand has serious bonus points for its range of foundation colors and diverse models. In fact, it was named one of TIME's 25 Best Inventions of 2017.
On Fenty Beauty's website, Rihanna is quoted saying,
Makeup is there for you to have fun with. It should never feel like pressure. It should never feel like a uniform. Feel free to take chances, and take risks, and dare to do something new or different.
She also spoke with People about Fenty's journey. She said,
I never could have anticipated the emotional connection that women are having with the products and the brand as a whole. Some are finding their shade of foundation for the first time, getting emotional at the counter. That's something I will never get over.
Rihanna also shared details about her own personal history with makeup and where her obsession started:
My lifelong obsession with makeup started with watching my mom put her makeup on. I always loved to watch her, and all the funny faces she was making in the mirror. I never understood it until I got older and fell in love with makeup myself and really started becoming obsessed. The first time I remember having my makeup done was for this beauty pageant that I did in school. I was 15, about to be 16, just before I got signed. I had my full face done for this pageant — my mom actually did my makeup. And ever since then, ever since I saw foundation on my skin, I could never look at my skin without foundation again. Makeup, it spoiled me.
She added,
Makeup is like a secret weapon. Depending on my mood, my look, or the occasion, makeup can go from very subtle to a complete transformation, and that's the fun in makeup: being able to play and create in endless ways.
Shop Fenty Beauty online or swing by your local Sephora to try out one of the 40-plus foundation shades and other product samples.
Trust me, if Rihanna says it's worth it, it's gotta be totally worth it.
You don't mess with Bad Girl.
Check out the entire Gen Why series and other videos on Facebook and the Bustle app across Apple TV, Roku, and Amazon Fire TV.