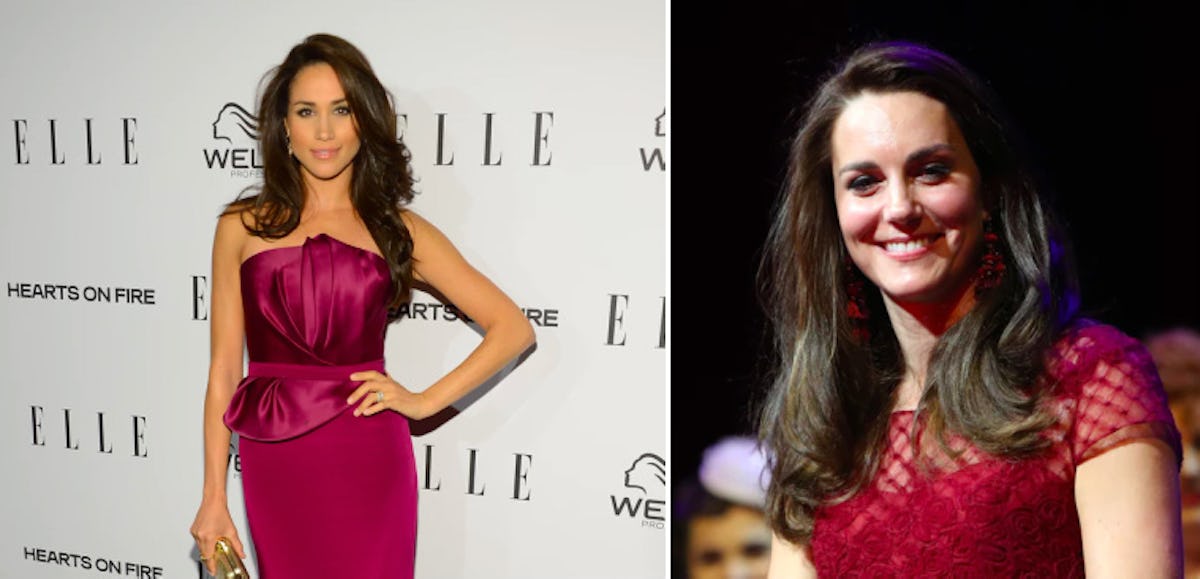 Meghan Markle Gushed About This Bridesmaid's Gown & Kate Middleton Already Approves
Michael Kovac/Getty Images Entertainment/Getty Images/WPA Pool/Getty Images Entertainment
The entire planet has been engaged in a collective swoon ever since Prince Harry and Meghan Markle announced their wedding plans. My world, in particular, has been filled with chatter about what Markle's upcoming bridal gown may look like. Past photos of Meghan Markle as a bridesmaid prove she loves wedding dress brand Lela Rose, so the designer can officially be added to your list of possibilities for Markle's big day.
A British royal wedding such as Markle's is a step above the average nuptials. Don't expect to see her on Say Yes To The Dress anytime soon, or ever. There are many strict rules that the royals must follow — if you thought your in-laws were bad, imagine having the Queen of England as part of your future spouse's family. Among the rules, Prince Harry must wear a military uniform, and Markle, as the bride, must wear white. Markle must also don a tiara, of which there are numerous royal tiaras to choose from. That rule seems easy to follow, IMHO.
Aside from the unofficial public expectation for Markle to have a show-stopping wedding gown, there appear to be few royal guidelines on what she must wear (which explains why I'm so impatient for the big reveal). The palace requested sketches from wedding dress designer Inbal Dror, but I'm betting that Lela Rose may be a contender as well. In 2016, Markle was part of a friend's wedding party and wore a striking Lela Rose gown as a bridesmaid. The kicker, though, is that Lela Rose also designs wedding gowns! Take a look at Markle's bridesmaid dress below, and some bridal dresses from Lela Rose that I think Markle would stun in.
Bridesmaid To Boot
Actress, feminist, blogger, bridesmaid — Markle seems to do it all. As a bridesmaid, she didn't have to match the other girls, but only had to wear a pale pink dress. "Thank you @lelarose for coming to the rescue 💕 The dress is dreamy," Markle posted to Instagram.
Markle's fellow bridesmaids all wore pale pink, but she was the standout with the dramatic bow on her gown.
Kate Middle Is A Fan, Too!
Markle isn't the only one to wear Lela Rose, her future sister-in-law is keen on the designer as well. In 2014, Kate Middleton wore a Lela Rose cocktail dress while performing royal duties in Australia. The open-weave detailing on this dress was a bold, fashion-forward choice for Middleton, and she of course looked fabulous.
Middleton is clearly smitten with the American designer. The Duchess wore a second dress by Lela Rose in 2016. Middleton's dress is much more casual than Markle's but take note that they are both pale pink. I've noticed how Markle admires Middleton's style, so it's most definitely not out of the question that Markle would wear this Middleton-approved designer when she weds Prince Harry.
Which One Will Markle Choose?
Now what could be better than seeing photos of Markle in such a beautiful gown at a wedding, and knowing that Middleton also loves the dress designer? Finding out that that exact designer, Lela Rose, also makes wedding dresses!
Markle chose Lela Rose for her friend's wedding, so who's to say she can't choose the designer for her own? Not me. Which is why I've picked a few that I think could inspire Markle's pick.
This off-the-shoulder, pearl-embellished gown is literally called "The Windsor," as in Windsor Castle. I can't confirm if that's where the dress' name actually comes from, but I can confirm it would be seriously perfect for Markle.
A long sleeved dress may be more appropriate for such a high-profile palace wedding. Modesty is never a bad choice around the queen.
A lacy gown like this one would pay homage to Middleton's wedding dress. I'm imagining Middleton as part of Markle's entourage in an episode of Say Yes To The Dress. If only they would sign up for that show.
Perhaps Meghan will opt for all-over lace like this design. It's got a vintage vibe to it which seems fitting for marrying into such a historical family.
The possibilities from Lela Rose's collections are endless, and gorgeous. The countdown to Markle and Harry's big day is on!