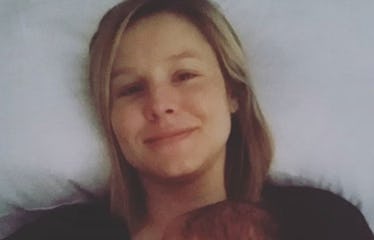 Kristen Bell's Birthday Post For Her Daughter Is The Sweetest Thing You'll Ever See
Kristen Bell and Dax Shepard keep their daughters' lives very private. They keep them far away from paparazzi and rarely ever speak about them in interviews, as they don't feel it's their place to broadcast their children's lives. But in honor of her youngest daughter, Delta's, birthday, Bell broke her own norm and posted on Instagram about her baby girl. The photos of Kristen Bell pregnant with her daughter Delta are seriously precious and show us a rare look into her and Shepard's private life with their children. Her caption for the heartfelt post read,
Three years ago today. 47lbs heavier. Getting through painful contractions with backrubs and breathing. Occasionally swinging from the IV pole to try and feel sexy and open up my hips. After 36 hours of labor I met a girl i love more than all the molecules in all the world. Happy birthday, Delta. Love, mom #meshpanties
The photos she included in the post show her pregnant with Delta, her and Shepard in the hospital when she was in labor, her holding onto an I.V. pole and posing for a pic, and then finally, a shot of her with little baby Delta resting on her chest, which we're assuming was taken in the hours following her birth.
It's all very precious, and I am here for it. Delta Bell Shepard was born Dec. 19, 2014, and her big sister, Lincoln, was born the year before on March 28, 2013. And yes, you read her caption right: Kristen Bell was in labor with Delta for 36 hours. Moms, man. They're made of steel.
Earlier this year, Bell revealed Lincoln and Delta actually walked in on her and Shepard having sex, and the video of her telling the story is hilarious.
Bell was asked what an embarrassing family moment was for her, and without missing a beat she answered, "Oh, they've walked in on us having sex." She continued, "Well, we didn't, like, continue… we sort of just went like, 'Hey, what's up? What do you need? What do you need?'… And then we just said, 'Mommy and daddy are just going to take a nap for a couple of minutes.'" Classic Kristen Bell.
Lincoln and Delta, while not the most "out there" celebrity baby names, are pretty unique names. In an interview with Ellen DeGeneres back in January of 2015, Dax Shepard explained how they came up with the name Delta, who had been born just one month before the interview. Shepard explained,
It was a joke because our first daughter's name is Lincoln, which is very masculine. So, a friend of mine teasingly texted me: 'Oh, great! What's this one gonna be? Navy Seal? Delta Force? Green Beret?' I was reading this text out loud to Kristen. And I said, 'Oh, Louis Steve said what if we named her Delta?' 'Delta! Delta Bell Shepard! That's it!' And that's it!
And that's it. Back in 2014 when celebrities were actively speaking out against photos of their children being sold and spread, Shepard and Bell made their stance clear. In a 2014 tweet, Shepard said, "Please boycott magazines that run pics of 'celebrity children.' They shouldn't be punished for who their parents are."
Bell echoed that sentiment when she told Access Hollywood that she didn't want her daughter's face broadcast anywhere without her consent. She said, "I'm telling you right now, we don't want our daughter's face anywhere ever until she decides because I have the utmost respect for her." And they've held up that promise of keeping their kids' privacy safe, as the only times you really see Shepard and Bell post about their kids is on birthdays, or when they're talking about their lives as parents.
Before her post on Dec. 19, one of the only other photos Bell posted of Delta was back in September 2016 on one of their family vacations to Lake Michigan.
The picture is of Shepard and Delta swimming in Lake Michigan together, but you can only see them from afar. Bell, who was standing on the shore when the photo was taken, pretended to be holding her husband and daughter in her hand like when people pretend to hold up the leaning tower of Pisa. Her caption read, "First daddy daughter swim in Lake Michigan-a right of passage for any Mitten baby ✋." Even though we never see pictures of the whole family together, the Bell Shepard squad is clearly cute as hell.
Check out the entire Gen Why series and other videos on Facebook and the Bustle app across Apple TV, Roku, and Amazon Fire TV.