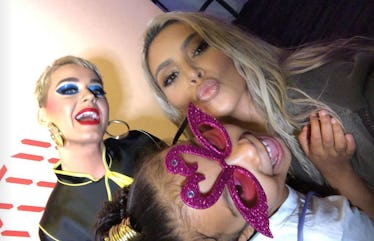 Kim Kardashian Hung With Katy Perry At Her Concert & Fans Think It Was A Jab At Taylor Swift
It's no secret that Kim Kardashian and Taylor Swift are not exactly besties. In fact, they're likely closer to enemies (if anything at all). Swift released her latest album, Reputation, on Friday, Nov. 10. While Swifties everywhere rejoiced, Kardashian, however, decided to mark the occasion by checking out a different songstress in concert. These photos of Kim Kardashian and Katy Perry together at Katy Perry's concert have fans thinking Kardashian was throwing some serious shade at Swift.
According to E! Online, Kardashian took her daughter North West to go see Katy Perry perform in concert at the Staples Center in Los Angeles. The evidence of the concert fun was posted to both Perry's and Kardashian's Instagram accounts. One photo in particular of Perry, Kardashian, and North really got fans talking.
Kardashian posted the photo to her Instagram story on Friday night, and there's nothing too special about the photo itself (except for how adorable North is). That doesn't mean people won't read into it, though. Fans definitely noticed that Kardashian (who posted the infamous Snapchat videos of Swift and Kanye West discussing "Famous") was hanging out with Perry, the inspiration for Swift's "Bad Blood," on the very day that Swift's new album was released.
Here is the sweet photo of the trio.
All three of them appear to be having a good time — complete with smiles, kissy faces, and novelty sunglasses. I mean, North is wearing flamingo-shaped sunglasses, how can they not be having some fun?
Now, there's not even a mention of Swift in the photo, but fans are adamant that shade was meant to be thrown and that Swift was definitely the intended recipient of it.
Need proof? Just check Twitter.
Kim K fans were living for the shade.
Fans imagined there was a bit of plotting going on.
You guys, someone needs to go check on "Trailor."
Who knew Katy Perry concerts could be so powerful?
It's not really that far-fetched to think that this might be more than a happy coincidence. Kardashian did release the phone call between Swift and West discussing Swift's mention in his song "Famous" after Swift had come out against West's reference of her with the lyrics, "I feel like me and Taylor might still have sex. Why? I made that bitch famous." Remember when all the snake emojis invaded Taylor's Instagram? After that, Kardashian and Swift may have said goodbye to a friendly relationship.
As for Perry, Swift fans famously sourced her as the inspiration for "Bad Blood" — and if you've listened to the song, it's not really a bestie anthem. As for their current relationship, I think Swift's lyrics say it best, "Cause baby, now we've got bad blood, You know it used to be mad love." I think it's safe to say that the "mad love" is lost on both sides.
So, yeah, these two cozying up on Swift's Reputation release date definitely gives fans reason to believe that Swift's invite wasn't lost in the mail — it'd be pretty awkward to show up at your own shade session.
To keep fans guessing even more, Perry took to her Instagram story share a photo of her own from the night.
Perry captioned it with, "I told you I was a secret Kardashian."
So far, there aren't any fan theories looking into Perry's hidden Kardashian ancestry. Thankfully, it looks like sometimes you can make a joke or post a picture without an entire subplot about it forming on the internet.
No matter what the intent of the photos is, it looks like everyone involved had a pretty good time — and that's really all that matters, right? That, and the fact that flamingo-shaped sunglasses are totally a thing now, thanks to North West.
Check out the entire Gen Why series and other videos on Facebook and the Bustle app across Apple TV, Roku, and Amazon Fire TV.