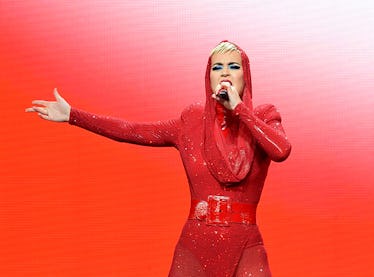 Say A Tearful Goodbye To Katy Perry's Pixie, Because The Singer Looks So Different Now
Kevin Winter/Getty Images Entertainment/Getty Images
'Tis the season of gingerbread houses, fuzzy socks, and...choppy bleached crops? It seems a new celebrity is stepping out every day sporting the icy style. Thanks to recent photos of Katy Perry's lob haircut, which she exposed earlier this week on her Instagram stories, I'm starting to understand what all of the hype is about.
To backtrack a bit, Perry has had quite the notable year in terms of her head. She started off 2017 with a similar style to the one she just debuted (a blonde lob), but it was cut slightly blunter and longer in length. A few months later, she debuted a new short 'do on Instagram, which boasted choppy long strands on top and closely cropped sides. Then in May, the singer appeared on The Ellen DeGeneres Show with a super short platinum pixie cut. During the show, she revealed that the close crop wasn't completely by choice, telling the audience, "I don't know if you've ever dyed your hair too blonde, but sometimes your hair falls out. So that's the way I handled it." Talk about a beautiful accident.
Bravo to Perry for not letting a hair catastrophe cramp her style. While the singer (and every woman alive) should feel beautiful and confident with any length of hair, I completely understand that some women prefer longer hair. I'm one of those women myself and I've left the salon on more than one occasion feeling less than excited that my stylist had taken off more than I wanted.
In June, Perry revealed another reason behind her haircut, and this time it had a lot more to do with identity. According to Refinery29, Perry let her fans listen in on a very personal therapy session.
I'm really strong as Katy Perry and then sometimes I'm not as strong as Katheryn Hudson. People like talk about my hair, right? They don't like it or they wish that it was longer. I so badly want to be Katheryn Hudson that I don't even want to look like Katy Perry anymore sometimes.
Perry, whose real name is in fact Katheryn Hudson, continued, "That is a little bit of why I cut my hair, because I really want to be my authentic self 100%. It hurts when I don't feel like I can." I love that Perry is willing to make drastic changes to her appearance because they feel true and real to her, no matter what anyone else says. It's everyone's right and privilege to present the version of themselves to the world that they feel is most representative of who they are.
Which, for Katy earlier this week, took shape in the form of a choppy bleach-blonde wig! She uploaded an image of her new look to her Instagram stories, before heading to a Jay-Z concert she attended in Chicago that night. I've got to say, she rocked it. I personally love Perry in a pixie cut, but it's always fun to see a celebrity switch up their look every now and then.
The singer was clearly feeling her look, as she posted videos of herself dancing and singing along to a few tracks while at the show.
Her new look could've been inspired by a fellow singer, because Selena Gomez also opted for a buttery lob that she debuted in November at the 2017 American Music Awards. In my opinion, she looks like a '90s rocker babe, with her brown roots peeping out at her crown.
Which has me wondering, should I follow in the footsteps of these incredibly powerful and self-aware women and opt for a shoulder-length crop? That would be one way to start 2018 off with a bang.