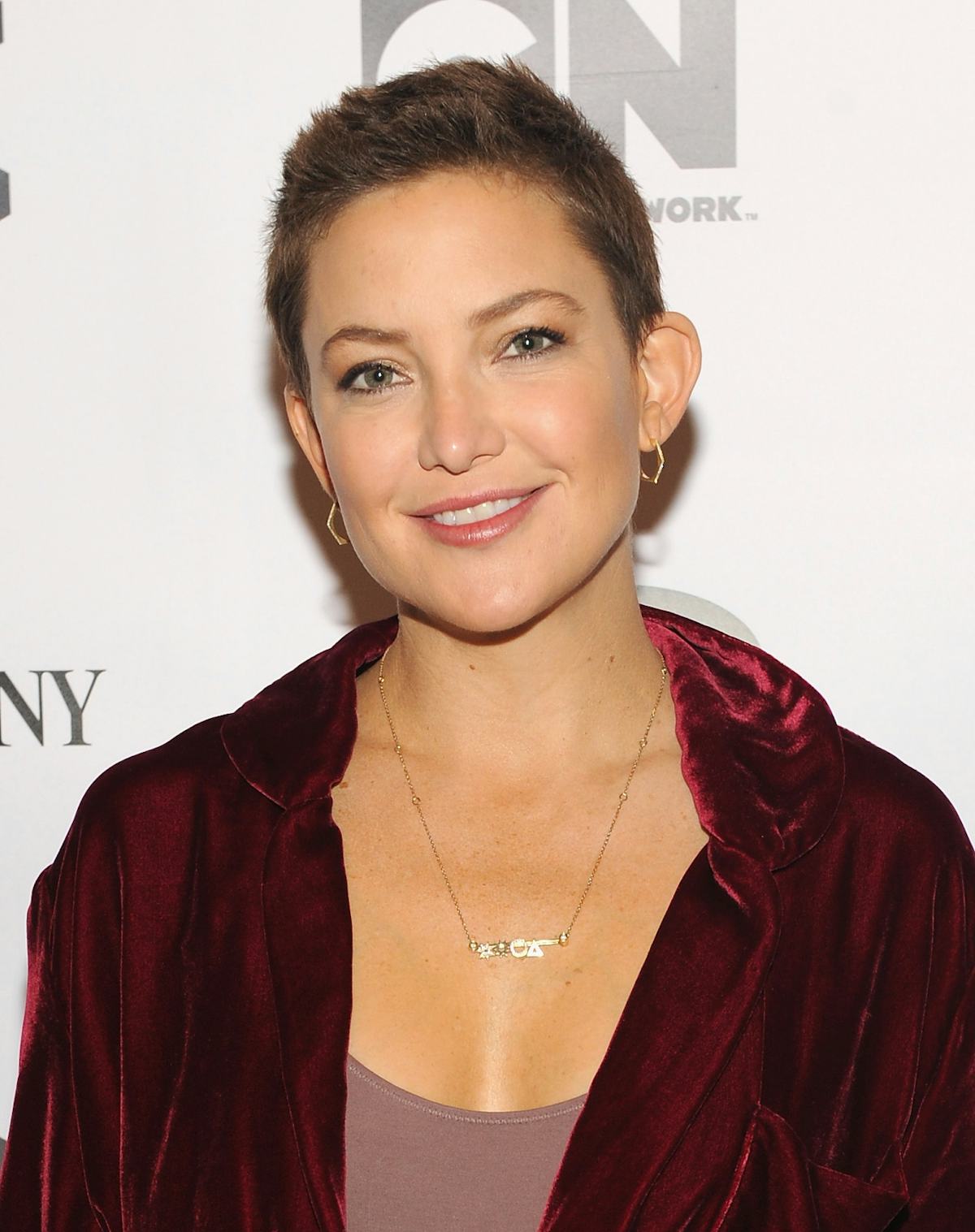 Kate Hudson Looks Exactly Like Leonardo DiCaprio In 'Titanic' & My Heart Won't Go On
Craig Barritt/Getty Images Entertainment/Getty Images
I'll forever be heartbroken that Rose let go of Jack in Titanic (there was totally enough room on that door, but I'll plead my case in another article). Regardless, at least I still get to ogle Leonardo DiCaprio in pictures both young and old. Imagine my delight when I logged onto Instagram today, and saw photos of Kate Hudson's hair side by side with young Leo. Needless to say, my heart won't go on after this.
Through the years, Hudson has become practically synonymous with long blonde hair. I would never go blonde (it would just not fit the red undertones in my skin), but what girl didn't want to be Andy in How to Lose A Guy In Ten Days? The day I find my own version of that backless yellow dress will be the style peak of my life.
When Hudson debuted a shaved head back in July, Hollywood was shocked. Her long, blonde hair is so iconic. I mean, the only thing that could top the haircut seen around the world is if Julia Roberts also buzzed her head. The daring transformation was for Hudson's role in the upcoming film Sister, written and directed by singer/songwriter Sia. But it's been several months now, and the buzzcut style is now evolved into something special. It's part pixie, part spiky boy band member, and 100 percent eerie doppelgänger to DiCaprio in the Jack Dawson era. Don't believe me? Even Hudson agrees, because the hilarious star drew the comparison herself.
"Who wore it better? 👆 #Hairspiration @leonardodicaprio," Hudson captioned this shot on her Instagram account. The #twinning pic shows DiCaprio on the left, when he was twenty-three years old at the 1997 premiere of Titanic. On the right, you see Hudson showing off her current length, and experimenting with texture and spiked ends. It's honestly so adorable, and I can't pick a winner, Kate. Please don't make me. The color, the perfectly flicked ends, and even the glimmer in the eye: I know DiCaprio and Hudson aren't related, but seriously these two could be cousins at the very least.
I love that with Hudson's look, she can play up the androgynous elements of her hair. If she is feeling more traditionally feminine, she can rock that look as well. Whatever the look she's going for, the mom of two relies on the Moroccanoil Treatment Light ($43, sephora.com), a lightweight argan oil, to manage her half curly, half straight hair.
When Hudson first made the chop for her role in Sister, Ellen DeGeneres posed the question every woman loathes, but has come to expect, when they cut their hair short. She asked how the men in Hudson's life felt about the switch-up, specifically Hudson's boyfriend, Danny Fujikawa. Cue the eye roll of eye rolls.
Hudson handled herself like the queen she is, and simply replied that she hopes her relationship transcends hair. Can I get a yessss from the ladies in the back? I love that response, and I think Rose from Titanic would echo the sentiment.
If anything, Hudson responded that she was more excited to break out of the typical and experiment a bit. Hair grows back, after all. The only thing that bugged her was dealing with the growing out stage, which I can totally relate to. "I'm starting to handle the first awkward stage of the growing out," she revealed to DeGeneres. As for when the short style gets a big longer, Hudson said she's contemplating bringing the mullet back. What an absolute ray of sunshine.
Leonardo DiCaprio, near, far, wherever you are — it's your move.