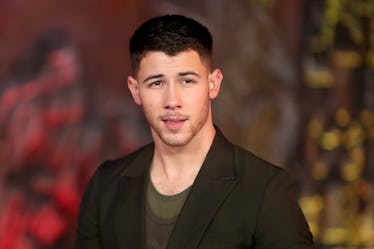 Nick Jonas Went To The Golden Globes With His Brother Joe & They Look Dapper AF
Christopher Polk/Getty Images Entertainment/Getty Images
As the 75th annual Golden Globe Awards gears up to be a all-black affair for some, this is arguably the most controversial year yet for the historic awards show. While attendees ranging from television to film hope to snag themselves a golden gilded statue before the end of the night, take rest that there will still be some boy band era eye candy to drool over. This being his first nomination, there is no one more excited to be gracing the red carpet than the Jonas brothers — and photos of Nick and Joe Jonas at the 2018 Golden Globes are just too perfect.
The two brothers took a bunch of truly adorable photos and Snapchats of themselves getting ready for the awards show, getting dressed (adjusting each other's ties! <3), and getting ready to roll out to the show. Both brothers were dressed all in black, apparently in solidarity with the stand against sexual harassment and assault.
This past year has been filled with a number of firsts for the Millennial heartthrob, from his first starring blockbuster role as Alex in Jumanji to the creation of the original song "Home" in the animated film Ferdinand, which landed him his first ever Golden Globe nomination for Best Original Song at this year's awards. Dare we say he's secured himself as the Beyoncé of the JoBro's?
Anyway, the photos are just too perfect and we love them.
The young Jonas is no stranger to the Golden Globes, having presented in 2009 alongside brothers Joe and Kevin. However, it will be the singer-songwriter's first time gracing the red carpet as a nominee, and how he heard about his nomination was kind of hilarious.
It turns out instead of waiting by the phone like many nominee hopefuls at 5 a.m., Jonas instead decided to take a light snooze before the announcement, due to extreme jet-lag from an overseas flight promoting Jumanji: Welcome to the Jungle, and ended up sleeping right through it. The numerous phone calls from his manager, brothers, friends, and Ferdinand director Carlos Saldanha didn't even stir the 25-year old from his slumber. Relatable.
"My wake up call this morning was one of my friends banging on my door because I wasn't answering my phone," Jonas told E! News. "He handed me his phone and at first I feared that something was wrong, but then it was my manager telling me the news and I freaked out. I was like a ten-year-old child who just got a new Gameboy."
Talk about waking up to good news!
Shaking out of his sleep induced stupor, the baby Jonas was able to celebrate this career milestone with co-writer Justin Tranter and friends and family, which is fitting considering his nominated song "Home" is a nod to those very people.
The theme for the song was the idea of home being the place we feel most accepted and loved. Home being your family, your friends, your loved ones. When I started thinking about that it was sort of like an outpouring. I don't know that I have actually ever written a song about my family before, and so for the first one to be recognized in this way is great.
Past nominees of the category include seven-time Golden Globe winner Alan Mencken, a historic composer who has written soundtracks for the likes of Disney classics such as The Little Mermaid, Aladdin, and Pocahontas. Being the former Disney Channel prodigy he is, Jonas is sure to be honored to have his name next to such a legend.
Jonas is competing for the coveted award this year against fellow nominees including "Mighty River" (Mudbound), "Remember Me" (Coco), "Star, The" (The Star), and "This is Me" (The Greatest Showman).
No matter the results from tonight's event, Jonas isn't even close to slowing down. Following the Golden Globes, fans can expect him to be working on his upcoming album, set to release this coming year. The last album Jonas released was 2016's Last Year Was Complicated.
Now securing himself as an official double threat as actor and musician, this year is sure to go from complicated to exciting. Congrats and good luck, Nick! We're glad you have Joe standing by you.