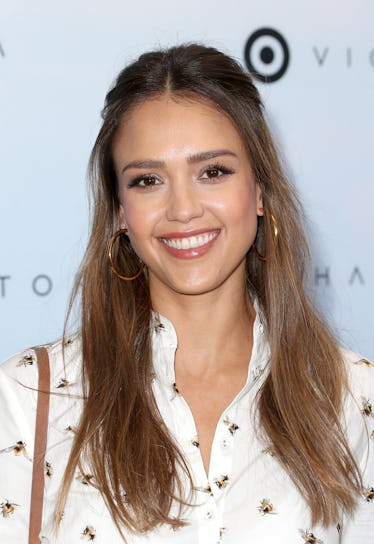 Jessica Alba Just Ditched Her "Pregnancy Hair" & Her New Look Is Goals AF
Frederick M. Brown/Getty Images Entertainment/Getty Images
Sometimes, you don't realize the shape your hair is in until after you get it cut. Frayed ends and a frizzy texture can feel like the norm until you're reminded what healthy strands actually look like post-chop. When I saw photos of Jessica Alba's pregnancy haircut — or before and after shots of it being cut, rather — they made me take a step back and reassess my own hair. It's frizzy and splitting and hasn't been touched by a professional in six months. Seeing as I haven't been pregnant during the past year (or ever, for that matter), I have no excuse, unlike Alba.
In a post Alba uploaded to Instagram, she shares before and after images of herself that reveal she's ditched her super long locks for a chop that reaches just beyond her shoulders. It looks super healthy, has some face-framing layers in the front, and is right on-trend with the shorter haircuts that have been taking over Hollywood as of late. (The blunt bob Saoirse Ronan premiered at the Oscars is so, so chic!) As a photo caption, Alba wrote, "This happened 💇🏽‍♀️ thx @chadwoodhair for the awesome #haircut - it feels sooo good to shed the pregnancy hair. Whaddaya think?"
The actress gave birth to her third child, son Hayes Alba Warren, over two months ago on New Year's Eve, and it seems she's now freshening up the look she was rocking throughout her pregnancy. While Alba's longer hairstyle looked amazing on her, it does appear to have been a little dry and frizzy. Seeing as springtime is just around the corner, it's the optimal time to get a cut, regardless. To answer Alba's question, I think her new cut looks incredible, and has me inspired to consider cutting an inch or two off of my own hair.
Along with the before and after shots, Alba posted a time lapse video of the cut, as did her stylist, Chad Wood. "Wait! I like that piece !! 💇🏽‍♀️👋🏽😜 time lapse with @jessicaalba," he captioned the video. While it's unclear exactly what he's referring to, I'm guessing Alba might have asked him to keep a favorite strand or two a bit longer than he was planning on. Regardless, the video is kind of entrancing to watch, as you get to see an inside look of a full celebrity hair transformation. Wood also styles the hair of other high-profile individuals including Vanessa Hudgens, Olivia Munn, Shay Mitchell, Lais Ribero, and more, so Wood's Instagram feed is accordingly full of great beauty inspiration and enviable celeb chops.
In an interview with Refinery29, Wood revealed that the haircut was "an impulse decision," but that he and Alba had discussed a retro-inspired cut beforehand. "She wanted something fresh and free. She hasn't cut it since she had her baby, so this was a great way to reinvigorate her style," Wood told Refinery29. "Some photos she showed me were mid-length but had choppy layers, and we decided we wanted something a little softer...We went for one length across with refined edges so that it falls nicely off her face."
While I am not sure I'm ready to commit to Ronan's uber short bob, Alba's style is the perfect length. It can still be pulled back into a ponytail or curled into beachy waves, but is short enough to still feel light and easy. It seems to be the perfect spring 2018 crop and I guarantee it's about to be everywhere.
Clearly, moms do know best...