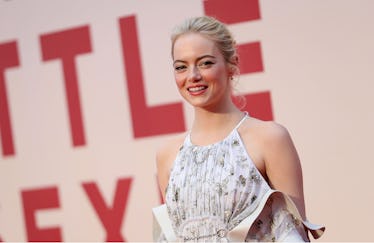 Emma Stone Is Wearing A Wig In Her New Netflix Series & She Looks Unrecognizable
Vittorio Zunino Celotto/Getty Images Entertainment/Getty Images
Emma Stone is playing Legolas in the all-female reboot of Lord of the Rings!!! Just kidding, I f*cking wish that was happening. But alas, we can't have nice things, so Lord of the Rings is just getting a series on Amazon and it will probably be about dudes. Whatever. But Emma Stone is playing a character who could totally pass as Legolas' sister in the new Netflix series Maniac. She has pointy ears and everything! Photos of Emma Stone on set of Maniac leaked this week, and they look like the show's going to be a combination of Lord of the Rings and Game of Thrones except with Sally Field as some kind of forest elf queen, and I am here for it. Yup, whatever this show is, Sally Field is in it, too!!
Maniac isn't actually set in anything like Middle Earth, though, so if you were worried about Emma Stone and Sally Field playing actual badass forest elves, first of all, that's rude. They would slay. Second of all, Maniac is apparently based on a Norwegian dark comedy about a crazy dude who fantasizes about elves in his dreams. This is Netflix's description of the series:
Emma Stone and Jonah Hill star in this remake of a Norwegian dark-comedy series about an institutionalized man who lives a fantasy life in his dreams.
Whatever the premise of this show, it has brought us Legolas Stone™, and for that I am eternally grateful.
There aren't any photos of elf Jonah Hill as an elf, but it's great to hear the Superbad co-stars working together again!
Plus, I don't need to see elf Jonah Hill in order to appreciate the amazingness of these photos. Elf Emma Stone is my new favorite Emma Stone.
And forest elf queen Sally Field is my favorite Sally Field. Sorry, Sybil!!!
Here's Legolas Stone™ meandering through the treacherous wilderness of... Westchester, NY. The last frontier!
There have been some incredible photos of Emma Stone and Jonah Hill on set of Maniac that don't include any costumes from Orlando Bloom's closet.
Like this '80s-themed beauty.
Sad Stone! Mullet Hill!
In addition to Stone, Hill, and Field, Girls actress Jemima Kirke is set to appear in a couple of episodes of the show's 10-episode first season. The Norwegian show the Netflix show is based on started in 2012. Although the trailers for the show aren't in English, they do have English subtitles and they give you a solid look at what we can expect to see from the Netflix version.
In the trailer, you see the main character, played by Norwegian comedian Espen Lervaag, in various fantasy scenes, like a World War II soldier planning to assassinate Hitler, someone caught in the middle of a zombie apocalypse, and lots of other fantastical scenarios. The trailer makes it clear that these fantasies the main character is having actually project themselves in his reality, but just make him look insane to the people taking care of him in the psychiatric hospital he lives in. At one point, you see the main character hand a woman a bouquet of red roses, and then it immediately cuts to actual reality where you see the man is really just handing his psychologist three forks. This kind of dark humor is right up Stone and Hill's alleys, so this show is probably going to be hilarious.
According to Deadline, Stone and Hill will both be playing patients in the hospital, but we'll have to wait until 2018 to find out what Maniac really has planned for its stars. In the meantime, LEGOLAS STONE™ FOREVER.