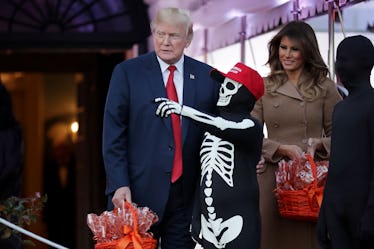 Donald Trump Hosted Trick Or Treaters At The White House & The Photos Are Surreal
Chip Somodevilla/Getty Images News/Getty Images
After what I can only assume was one of the more stressful days Donald Trump's administration has seen, the president ended his day on a much sweeter note. On Oct. 30, Trump and First Lady Melania hosted their annual Halloween party on the South Lawn, where they passed out candy to kids from the D.C. area. And let me just say, the photos of the White House Halloween party are surreal — for more reasons than one.
The first lady announced the party on Oct. 27 in a press release, presumably before news broke that same day that Special Counsel Robert Mueller and his team would be filing the first indictments in the investigation into Russian election meddling and possible collusion with the Trump campaign. Preparations for the event continued throughout the weekend, with the first lady and her spokeswoman tweeting out progress of the elaborate decorating process.
What was also progressing throughout the weekend was the advancement of the Russia investigation. On Oct. 30, the same day as the party, Paul Manafort (Trump's former campaign chairman) and Rick Gates (Manafort's business associate), were both indicted and charged with counts including conspiracy against the United States, conspiracy to launder money, and failure to file reports about international financial assets. That same day, it was reported that George Papadopolous (a former Trump campaign advisor) had pleaded guilty to charges of lying to federal agents — and that he had done so weeks ago, on Oct. 5. In the aftermath, Trump and his administration has found themselves in deep uncharted waters.
But Trump doesn't seem to be bothered one bit, as evidenced by photos from the Halloween party. Not only is the White House decked out with unreal decorations, it's truly unreal that Trump put on as straight a face as he did amid these explosive revelations.
The White House was seriously festive with their Halloween decor:
I mean, just look at these cobwebs all lit up. Seriously amazing:
Kids lined up to receive goody bags filled with cookies from the White House kitchen:
I'm really hoping this costume is a metaphor of sorts:
The FLOTUS does not look like she was expecting a T-rex that large to show up:
OK, this is kinda cute:
And the most enthusiastic White House visitor award goes to:
With Trump's track record of lashing out against anyone that he deems his enemy, it's surprising that he was able to keep his composure during the Halloween event earlier today. Trump limited his reaction to news of the indictments to two tweets.
In one, he said that any alleged crimes of Manafort's were old news. He wrote, "Sorry, but this is years ago, before Paul Manafort was part of the Trump campaign. But why aren't Crooked Hillary & the Dems the focus?????" In his second tweet, Trump again asserted that there is no evidence of collusion.
But once news broke of George Papadopolous' guilty plea, Trump was silent. During the White House Press briefing, Press Secretary Sarah Huckabee Sanders downplayed Papadopolous' role in Trump's campaign as merely a "volunteer" position.
And Trump doesn't look exactly stressed in these photos, handing out candy to costumed kids.
But despite the relaxed party photos, news reports from White House sources are saying that Trump is actually furious about the news.
According to The Daily Beast, Trump spent all of Monday "fuming" over the indictments. The president was reportedly so angry that he needed to be talked out of lashing out at Mueller by his aides, who advised against firing the special counsel, according to CNN. The news network also reported on Monday night that a source told them that Steve Bannon is urging Trump to fight back against Mueller.
There's no telling what action Trump will take and if his aides will able to continue to reel him in as the investigation continues to unfold. From the looks of it, this probe will continue well into 2018. That's a lot of time for Trump to plan any action regarding Mueller and his investigative team.
In the meantime, though, you always have the joys of Halloween candy, Mr. President. No one can take that away from you.