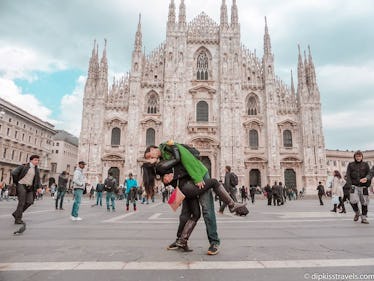 This Couple Meets Up To Take The Same Romantic Photo In Different Spots Around The World
Hello, I'm here to break up the monotony and vehement sighs that are likely plaguing your day with a story so romantic, you'll want to hug the stranger sitting next to you. Seriously, as if finding any way to ensure love conquers long-distance isn't romantic enough, one couple found a way to celebrate their love all over — literally — with a unique twist: a "dipkiss." Yes, Rob & Joli Switzer's "dipkiss" photos take place in awe-inspiring locations around the world, and it's pretty much the most romantic thing I've ever seen in my life. Seriously, if my girlfriend and I weren't broke, I'd make her do this with me.
But anyway, let's get deeper into the story, shall we? Basically, Rob and Joli first developed their friendship at a gathering for travelers in the Philippines, according to BuzzFeed News. However, though Joli is from the Philippines herself, Rob is from the States. Fortunately, the two kept in touch (thank you, interwebz) for a few years before meeting back up again and beginning what is clearly the most amazing long-distance relationship of all time.
As we all know, long-distance relationships aren't easy. Personally, I need copious amounts of cuddles and attention, like, constantly, so the idea of a LDR terrifies me. But clearly, the Switzers pushed through, deciding to meet up every so often in the most beautiful destinations you could imagine.
"It was one of the only ways for us to meet each other when we were apart," Rob and Joli told BuzzFeed News. "And we both loved to travel as a hobby anyway so it worked well for us."
And even amidst regular adult responsibilities (ugh), the two made sure they could work in time to meet up. "We both had full-time jobs the whole time we dated," they said. "So we saved every bit of our money and only used our paid time off to see each other."
OK, OK, but what about when they got to these amazing destinations? It's 2017, people. Pics or it didn't happen. Well, the Switzers took things one step further than a blurry selfie in front of an attraction. Instead, the two decided the "dipkiss" picture was perfect for them, and I have never been so endeared.
"Everyone was taking jump shots and signature travel poses, so we thought about creating our own cute romantic pose just for kicks," Rob and Joli said. "On a whim, we decided that the 'dipkiss' should be it."
You guys, just take a look at these pictures for yourself, and try to tell me it's not the most beautiful thing you've ever seen:
If your heart hasn't already grown three sizes today, after a few years of doing the whole long-distance thing, Rob decided to pop the question to Joli in Moscow, Russia. Don't worry, though. In addition to a picture of Rob down on one knee, the two didn't forget to do a dipkiss picture there, too.
Aaaaaaand here comes the happily ever after. The couple also recently tied the knot this past June. I'm still alive, but I'm barely breathing, you guys. The amount of love in this story is killing me.
Recently, Rob and Joli's story has begun going viral across social media. Since deciding to make their adorable travels public, their Instagram page, @dipkisstravels, now has almost 7,000 followers and counting. According to Rob & Joli, people have even begun sharing their own stories of their long-distance relationships with them.
"We just love seeing couples who beat the odds and prove that stories like these are possible," they told BuzzFeed News.
If you want to keep up with the couple's amazing — and picturesque — love story, you can obsess over their dipkiss pictures on Instagram, Facebook, and on their official blog. Seriously, I'm still obsessing. I can't stop. Help.
Check out the entire Gen Why series and other videos on Facebook and the Bustle app across Apple TV, Roku, and Amazon Fire TV.
Check out the "Best of Elite Daily" stream in the Bustle App for more stories just like this!