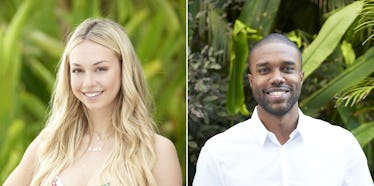 Corinne Olympios & DeMario Jackson's Halloween Pics Prove They're Doing Just Fine
Bachelor in Paradise fans can breathe a deep sigh of relief. After a hot tub encounter between Corinne Olympios and DeMario Jackson resulted in a flurry of sexual misconduct allegations, it looks like the pair may have made amends. Photos of Corinne Olympios and DeMario Jackson at a Halloween party show the duo looking happy, relaxed, and apparently totally, totally fine.
Olympios and Jackson both took to Instagram on Oct. 22 to share matching pictures of the two of them, all dressed up for Maxim Magazine's Halloween party.
The duo looked surprisingly cozy in the snap — particularly given all the drama that's surrounded them. Olympios donned a fem-bot costume, Jackson rocked a biker look, and the whole thing was surprisingly very cute.
Their Instagram captions were also quite friendly — and dare I say, a little relationship-y?
"Fembot - Biker Boy take Halloween 🎃" Olympios wrote in her post.
"This fembot captured me tonight! 🌹" Jackson said in his.
While on the red carpet, the duo continued to look extra cozy, and were snapped giggling, arms around one another. At one point, Jackson picked Olympios up and stuck his tongue out, while she threw her head back laughing.
Soooo...um...can we DTR anytime soon?
If pictures aren't enough to convince you, then take it from the reality stars themselves.
"We're extremely close. We talk, like, every day. We hang out. We do things that friends do," Jackson told Us Weekly at the event, and then noted that Olympios is "the most drop dead gorgeous girl in the world."
And have they kissed since the show went off the air?
"I don't kiss and tell," Jackson said.
Hmmmmm.
Olympios added,
We're really good friends and just hang out a lot and I'm super happy to be here with him tonight. It's really good that we could just be friends and have no worries about any drama or anything like that.
This actually isn't the first time that the two have caused a series of "will they/won't they" questions. In August, the two reunited in Los Angeles, and there was lots and lots of hugging, jumping, and cheek kissing to go around. They were also spotted at Disney World in September, holding hands, according to US Weekly.
The drama surrounding Olympios and Jackson started in June, when a producer complained that there was sexual misconduct on the set of Bachelor in Paradise. The producer alleged that Olympios may have been too drunk to consent during a sexual encounter with Jackson. Warner Bros. ultimately did not find evidence of misconduct.
While Olympios called everything that happened an "unfortunate and annoying situation," she didn't point a finger at Jackson. She told E! News,
I honestly don't feel like he did anything wrong. I really just want people to know that I don't blame DeMario. I never pointed fingers at DeMario. I never said a bad word about DeMario.
I would want to tell him, like listen, I respect you as a human. I have nothing against you. I am so sorry you had to go through this. I know exactly what it feels like...and I wish you all the best and I'm sorry.
Jackson had similar kind words for Olympios. During an interview with E! News in June, the former Bachelor contestant said,
I love her, I'm here for her. She's experiencing the same thing that I am. I feel bad for her, I feel bad for her family. I feel like she was given wrong information or she was a part of something that was much bigger. I have so much love in my body, even through all this experience. If she walked in right now I would give her a hug.
At the very least the two have a lovely, tight friendship going on now. Anything more is pure speculation. Still, keep your eyes peeled for more matching Instagram posts — they're definitely the Facebook poke of 2017.