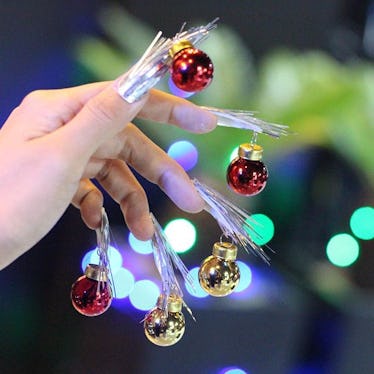 Christmas Ornament Nails Are Here & They'll Make Your Holidays So Lit
@nail_unistella Instagram
I'm currently in the final countdown to Christmas Day. I've got my Christmas outfit ready, Christmas cookie ingredients purchased, and even my Christmas playlist curated. After doing my daily perusal on Instagram, photos of Christmas ornament nails totally changed the game. Gone are the days of simple holiday nails, and this year, I'm turning Christmas Eve into a nail art extravaganza.
I am obsessed with my nails. My mother always raised me that if nothing else, your teeth, nails, and hair should always be on point. I could have on the most fly outfit in the world, it could even be designer, but if my cuticles are cut up and my nails are breaking, it could ruin my whole look. I'm not as obsessed as I was when I would get mani/pedis every two weeks, I mean hello student loans, but I always make sure my cuticles are nourished with coconut oil or vitamin E.
The last couple of months though, I've been getting into nail art, colors, and elaborate designs. Everything has changed in the past five years. Long nails are considered more wearable than ever. Sporting color is celebrated, not looked down upon in the work place, and the funkier the nail art, the better. But one Instagram user might be changing the game with holiday ornament nails, which make the phrase "festive AF" seem understated.
If you're truly obsessed with fashion and beauty, you know how important it is to look both domestic and abroad for inspiration. Park Eunkyung, a South Korean nail artist known for her double tap-worthy designs, is schooling us on winning the holiday season. The way we see the nail game or even the Christmas tree will never be the same after this.
In South Korea, Eunkyung has worked with everyone in the K-Pop and K-Drama world (like Jun Jihyun, BlackPink, and Sistar). She even has famous followers stateside like Victoria Beckham, Aimee Song, and Jenn Im, who visited her nail salon, Unistella, in the Cheongdam-dong area. Although it's expensive to book a flight to South Korea, you can see Eunkyung's designs on Instagram.
I believe that South Korea is totally leading the pack in providing fresh, authentic beauty inspo, and Eunkyung's ornamental look goes to prove my point. I may be biased, though, because I met one of my good friends while studying abroad in London. During my first night out abroad, I learned two very important lessons: Just because it's a school organized bar crawl doesn't mean the bouncers won't card you, and trying to get in with your home country's college I.D doesn't cut it. Rookie move I know.
The second takeaway I learned is that when you see a super fashionable girl from your school, also failing to get in without an I.D, always stop her. Not only did I gain a lifelong friend, but I jumped on the Korean fashion and beauty train early. It's no surprise that Korea is having their moment in the sun, because they've killed it with experimenting and shattering the box in regards to what's in and hot. I also love that South Koreans don't care what you think in regards to their style. They're going to go there, push the limit, and eventually you'll know what's up.
I don't know about you, but however much I love them, I unfortunately can't rock these nails. First, the balls will definitely break, giving new meaning the phrase "ball drop." Then there's the fact that my family just won't get that this is fashion. If you're not into this particular look either, and want to go with something a bit more understated, there are copious manicure designs on the Unistella page.