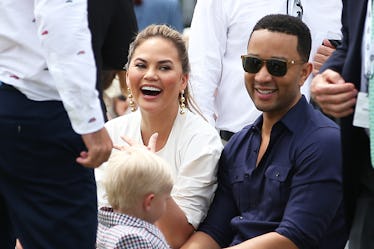 Chrissy Teigen & John Legend Took Luna To Disneyland & The Pics Are Too Adorable
Adam Glanzman/Getty Images Sport/Getty Images
There's no denying the fact that pretty much everyone loves a classic family trip to Disneyland. But imagine that your parents just happen to be Chrissy Teigen and John Legend. There would be no such thing as a bad photo opp, and you'd get to enjoy some pretty incredible musical talent while touring the park...it's literally a dream come true. And in case you don't keep up with the talented and gorgeous family like I do, the latest photos of Chrissy Teigen, John Legend, and Luna in Disneyland Hong Kong are so damn adorable that your heart will melt into a puddle.
Do you remember hugging Minnie Mouse the second you set foot on Disney property for the first time? I definitely do, and that's what Luna Stephens — Legend and Teigen's 1-year-old daughter — experienced on March 10 in Disneyland's Hong Kong park. And, if you haven't caught a glimpse of the footage, it's beyond precious. In Teigen's Instagram video, you can see Luna go in for a hug with Minnie Mouse, and it kind of looks like she never wants the hug to end. Teigen, with hilariously jealous (and sassy, as usual) commentary, captioned the video "she lets me hug her once a week." So if you weren't already completely obsessed with Luna and Teigen, just let soak that in. So fabulous.
Teigen also 'grammed a classic pic with Luna from what appears to be a ride at the park. The toddler is decked out in Belle's Beauty and the Beast gown, and truly looks mesmerized by her surroundings. Honestly, I make the same face when I'm at Disney, because I get into it as much as a baby would. Teigen appropriately captioned the picture, and wrote "my belle #disneylandhongkong." As usual, she looks like a total boss. If you weren't already able to tell, I'm kind of obsessed with the two of them.
Legend also did not disappoint with some absolutely adorable daddy-daughter 'grams from their big family trip to Hong Kong Disneyland together. The first photo he posted from the trip captured him and Luna on a ride together. According to the caption, which was "It's a small world after all! #hongkongdisneyland," they were enjoying the classic singing animatronic ride. The photo was snapped at the right time, because Luna looks like she is having the time of her life, laughing and pointing at something in the distance. As usual, Legend looks phenomenal. Just take a look for yourselves — it's too damn cute.
The next photo Legend posted of his daughter, which is captioned "#hongkongdisneyland," shows the two of them matching in Mickey and Minnie Mouse ears. The two of them look super cute as usual, and Luna is hugging a Minnie Mouse doll. They're about to have the time of their lives, and I am wallowing in jealousy... not to mention, Legend looks as fashionable as ever, wearing an earthy AF bomber jacket. Legend, Teigen, and Luna truly are the most gorgeous family ever, and they're on the vacation of my dreams. However, it's not totally a vacation. The family took a break from Legend's Asian concert stops to have fun at the park, according to E! News.
Seriously, please take me with you next time, guys.
I don't know how you're feeling RN, but if you're still down to look at more gorgeous family pictures of the flawless trio, I'm obviously game; I would never turn that down. At the beginning of their trip to China, Teigen captured a really heartwarming moment of Legend and Luna sleeping in a chair, after enduring the super long flight. The Instagram caption is, "My babies are jetlagged 🇨🇳," and for real, my heart just grew like, eight sizes. I am totally in love with their entire family, and TBH, I'd really appreciate if they'd just invite me on their next family vacation. Please?