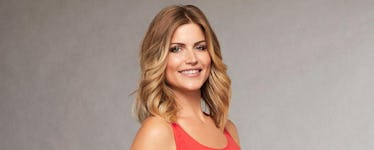 These Photos Of Chelsea From 'The Bachelor' & Her Son Will Melt Your Heart
ABC/The Bachelor
The next season of The Bachelor hasn't even started airing yet, and we already feel like we know contestant Chelsea Roy. Maybe it has something to do with the fact that she looks a lot like Olivia Caridi from Ben's season. Or maybe it's because she's a single mom who's giving us serious Amanda Stanton vibes. But while host Chris Harrison recently picked Roy as one of his "top five contenders," the New England native already has a main man in her life. And trust me when I tell you the photos of The Bachelor's Chelsea and her son Sammy, 3, on her Instagram feed are the cutest thing you'll see all day.
Here's what we know about the single mom so far based on her Bachelor bio: She's a 29-year-old real estate executive assistant from South Portland, ME, who grew up playing soccer and field hockey. She has matching "wave" tattoos on both of her palms, she'd like to go to France because "it's where all the love stories seem to be based in the fairytales I heard as a little girl." We know her biggest date-ruiner is when her date "displays over-the-top PDA." Her guiltiest pleasure is her sweet tooth, so get ready to bring on those gummy bears, Arie!
What we know from checking out what Chelsea shares on Instagram, though, is that she is one devoted mama, and her son is seriously one of the cutest little dudes on the planet.
Just look at that sweet little face!
Chelsea's feed is filled with adorable pics of Sammy. I love this one of the two of them touching noses on the beach:
And check out the massive toothy grin he's got going on this next pic:
"I love you on a airplane, helicopter, and spaceship mama," Chelsea wrote in the caption, and literally nothing could ever be more precious.
Plus, don't even try and tell me this close-up of Sammy all bundled up in a maroon hat and camo parka while resting his head on his mom's shoulder doesn't give you all the feels.
Find someone who snuggles up to you the way Sammy snuggles up to his mama. And P.S. why do little boys always seem to have the longest lashes?
"I hope his dreams are full of wonder," Chelsea mused in this angelic pic's caption. "I can only hope to role model and teach him that anything is possible. Dreams do come true."
So sweet! But could she sneakily be referring to her dreams of winning Bachelor Arie's heart? Only time will tell. We do know, however, that Bachelor Chris Harrison chose Chelsea as one of his top five contenders for Arie's heart in a People interview. He said Chelsea "goes out of her way to make a first impression on Arie." He continued, saying, "He is very taken by her. But he can tell she's holding back. She has a little bit of a secret. She will reveal it into the show."
The big question, however, is whether Arie is ready to be a father. He does have some history here — he was a runner up during single mom Emily Maynard's season. But being a dad is a huge commitment, and if Chelsea makes it to hometowns, we just hope she's learned from Amanda Stanton's mistakes and doesn't introduce Arie to Sammy too soon.
Because I think we all remember how that turned out.
In the meantime, it looks like little Sammy's been working on his ice cream-eating and kicking skills.
Break her heart, Arie, and you'll have this guy to answer to!