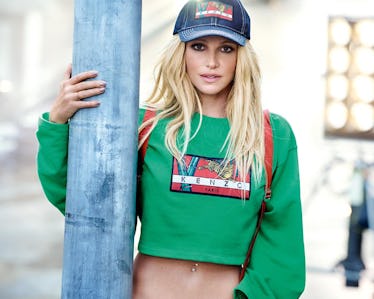 Britney Spears Starred In A Clothing Campaign & It's The Most 2000s Thing You'll See All Day
You know that feeling when someone you haven't seen or heard from in awhile pops back into your life and makes you realize just how nostalgic for the past you are? That's exactly how I reacted upon seeing photos of Britney Spears' Kenzo campaign, which feature the singer (and one of my childhood idols) wearing badass clothes that could rival some of her most iconic aughts outfits. While certainly not as outrageous as the red vinyl catsuit Spears wore in her video for "Oops, I Did it Again," the looks channel a vintage playfulness that have me flashing back to the days when Spears was a mainstay on red carpets, sometimes hand-in-hand with Justin Timberlake. Ah, how I miss the 2000s!
I grew up on a goat farm and, until high school, was pretty unaware of the goings-on in pop culture. I was allowed 30 minutes of television a day, which I usually allocated to Animal Planet, and mainly listened to Barenaked Ladies, Dave Matthews Band, and Depeche Mode — my mom's favorite bands. While I wasn't barred from listening to J. Lo, Avril Lavigne, and Michelle Branch, it was up to me to save up my allowance to purchase their CDs. It took months. And so, I arranged an underground CD trading ring between myself and a few other girls on my school bus. The first CD I ever bought was Jennifer Lopez's This is Me… Then (it was my most treasured possession at one point) but as soon as I lent it out in exchange for Spears' Oops!... I Did it Again, I had a new favorite. And thus, my infatuation with Spears was born.
Beyond her addictive music, Spears was influential for her sense of style, which extended in extraordinariness from her music videos all the way to the red carpet. She proved to an entire generation that head-to-toe denim was acceptable award show attire (even if you don't agree with said choice, it is inarguably iconic!), and championed the crop top and hip huggers combo that defined that era. So when I saw her in those exact same trends in Kenzo's campaign for their new 'La Collection Memento No2,' which Vogue describes as "a tribute to the debut of Kenzo Jeans in 1986," my inner teen lost it.
Shot by Peter Lindbergh in Los Angeles, the campaign features Spears in a cropped green "Kenzo" sweatshirt and denim baseball cap; a matching leaf print crop top, jacket, skirt, and hat; and thigh high lace-up denim boots, a denim jacket, and denim cap. While the looks are meant to (and do) reference iconic '80s style, they are done in a much fresher and cleaner way.
According to Vogue, Spears wasn't a huge fan of that decade's style. "I mean, ugly was the way to go in the '80s, it was all just completely obnoxious—but there was also something so refreshing about that and the fact that we didn't care what anyone thought about our clothes," she told the publication. Kenzo's take on the sartorial era certainly takes the best elements of it — dramatic shoulders, bright colors, cropped tops — and grounds it in modern details.
"This collection is very youthful," Spears told Vogue. "We had fun on set, even though it was a bit weird for me at first. I am used to shooting in a studio or a small space, and this was on the street. We were out there and I had really promiscuous clothes on, which felt odd, but, of course, on film it turned out to be really cool."
It's sometimes hard for me to remember that the woman whose body rolling I used to try and imitate is now a mother of two, and that her usual wardrobe typically consists of jeans, tees, maxi dresses, and bohemian tops these days. I can imagine being shot in denim underwear might feel a bit alien. "I think when I was younger I took so many risks and really went for it," Spears told Vogue. "There was no planning what I wore, and it was like, okay, I am just going to put on the most outrageous thing. I think as a mother you hold back from that out of fear of embarrassing your kids and out of respect for them."
I love her for saying that, but she looks strong and fierce AF.