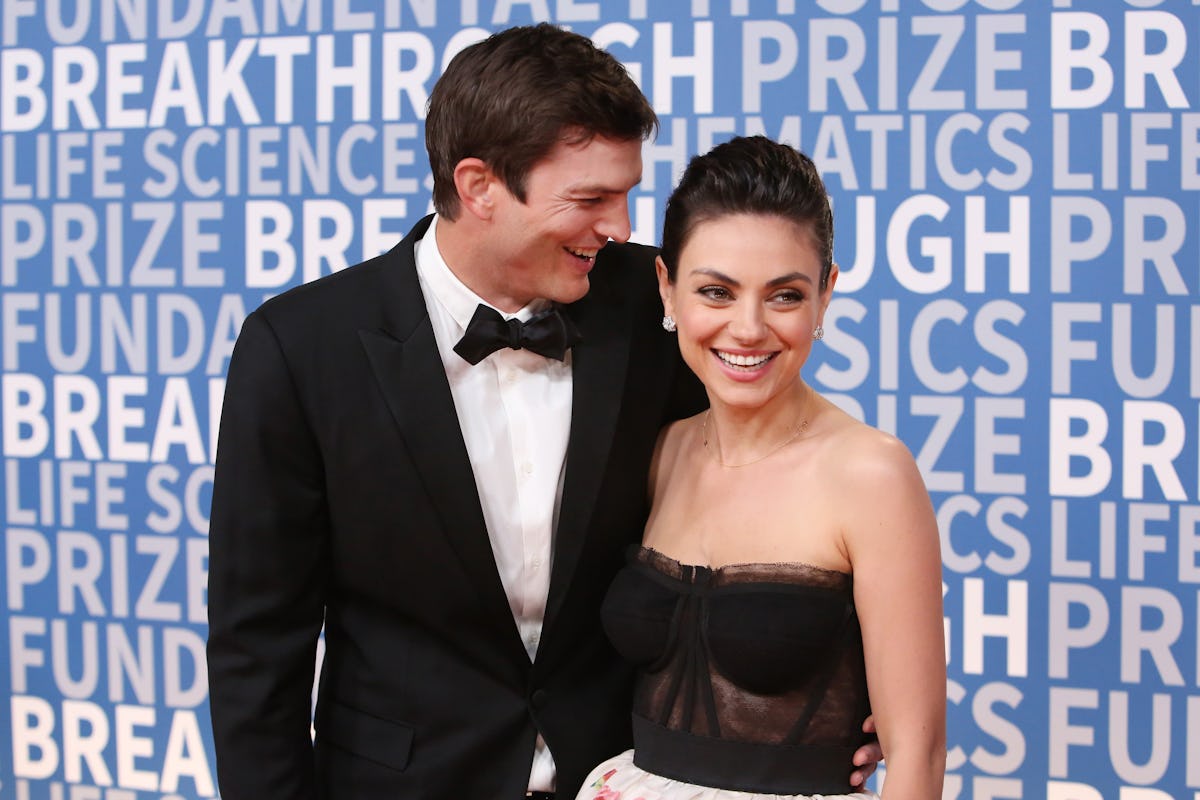 Ashton Kutcher & Mila Kunis Look So In Love At First Red Carpet Since 'That '70s Show'
Jesse Grant/Getty Images Entertainment/Getty Images
You know them. You love them. They're Jackie and Kelso, aka Ashton Kutcher and Mila Kunis, and holy sh*t are they beautiful together. This married couple has one of our favorite love stories, and photos of Ashton Kutcher and Mila Kunis on the red carpet together are giving us all the feels. Even though they're technically still young and in love, it feels like the world has been waiting for their happily-ever-after since the beginning of time.
The Sixth Annual Breakthrough Prize Ceremony marks Kutcher and Kunis' first red carpet together since their hit series, That 70's Show. If you guys remember, a way-way younger Kunis and a younger Kutcher met on the set as one of our favorite TV couples, Jackie and Kelso. At the time, Kunis was just 14 years old, and Kutcher was 20.
Fans not-so-secretly hoped these two would ultimately end up together IRL, but when Kutcher married Demi Moore in 2005, it seemed our dreams would never become reality. In fact, Kutcher and Moore were actually married for a full eight years before that relationship came to an end. One would think that was Kunis' cue, but she's revealed she actually wasn't into the idea of a serious relationship.
Kunis told Howard Stern both she and Kutcher had the idea they were never going to get married. She said,
We started dating with the idea we're both never going to get married. [Kutcher] just got out of a marriage. I got out of a long relationship. I was single and having the best time ever. I was totally dating, having a great time, and I was like, 'I'm never getting married.' He's like, 'Great, neither am I!' And we're like shaking hands on it and we're like, 'Life is great!' A year later, we're like, 'Tomorrow, let's get married.'
Seeing the two dressed to the nines on a red carpet is reminiscent of another story Kunis told, in which she first learned she was attracted to Kutcher.
She openly says she never used to be into him, until one day when she ran into him at an award show years after That 70's Show ended.
She told Stern,
... We ran into each other at a party, at an award show. So I see this guy, and I see his back, and he's really tall, and I was like, 'Who's that tall guy?' And, I'm standing there like this, literally like 'Hmm...' and I'm wearing this big poofy dress, and look ridiculous, and then he just turns around, and it was like literally, if we were in a movie, the music would just start playing and violins would go. I just went [gasps]. Like, I think he for the first time ever took my breath away....I was like, 'F*ck, he's good looking.'
I mean... yeah... he is.
Kunis goes on to explain that they began as any couple might — just friends with benefits. Even though they both "shook hands" on their arrangement, it quickly grew into so much more, and they became a real, emotionally-invested couple. For a while, their relationship was private, though it would ultimately lead to two beautiful babies and one happy marriage.
The gorgeous couple co-parent kids Wyatt, 1, and Dimitri, 3, and married in 2015.
Now, out, loud and proud about their relationship, Kunis and Kutcher finally stepped out together to attend the Breakthrough Prize Ceremony, also known as the "Oscars of Science."
This year, it was hosted by Morgan Freeman, and Kutcher and Kunis popped by to present an award. The ceremony itself recognizes achievements in physics, life sciences, and mathematics.
Check out the entire Gen Why series and other videos on Facebook and the Bustle app across Apple TV, Roku, and Amazon Fire TV.