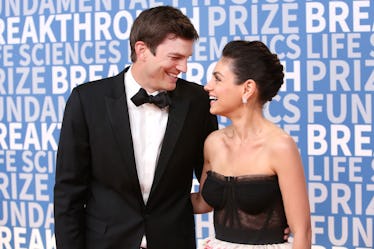 Ashton Kutcher & Mila Kunis Went On A Holiday-Themed Date Night & It's Adorable
Jesse Grant/Getty Images Entertainment/Getty Images
The holiday season breeds a lot of things — amazing cookies, snowy Instagram pictures, and dreamy decor. Luckily, it also is the perfect backdrop for super romantic date nights. Honestly, if you can't create a little romance under some holiday lights, you're in the friend zone. I'm sorry you had to hear it from me. You know who made it beyond being just friends? Mila Kunis and Ashton Kutcher — they are the greatest friends-turned spouses-turned parents and we adore them for it. Obviously, the romance is still alive because the photos of Ashton Kutcher and Mila Kunis' date night are so, so cute.
The couple went on a casual ice cream date to Fatamorgana Gelato in Studio City — a neighborhood of Los Angeles. What bumped up this typical outing was the holiday flair. Kunis was rocking jeans and a festive green sweater that was adorned with red glittery stars. She had her shoulder-length hair straightened with a side part.
Kutcher also kept it casual in a red-and-black plaid shirt, which complimented Kunis' sweater perfectly. He also wore grey jeans and a black hat.
The two can be seen laughing and enjoying each other's company. Kunis even had some fun with a Santa cardboard cutout. Kutcher and Kunis took some gelato to go, but definitely indulged in a few samples. If they're anything like me, they probably ate five samples and promised, "Last one, I swear," after each one.
The entire outing was super chill and low-key. In my opinion, nothing says, "I love you," like, "Do you want to stop for gelato?" Romance is not dead, people.
It's great to see Kutcher and Kunis out and about enjoying each other's company. With two little ones at home, it's probably extremely difficult to have a moment to just breathe. I'm sure the holidays make it extra hectic around the house.
Although Kunis is Jewish, she explained to Entertainment Tonight while doing press for A Bad Moms Christmas in November that her family does celebrate Christmas as a time to just gather as a family. Oh, and have some cocktails. She said,
I come from communist Russia, where you're not allowed to be happy, so my holiday traditions are 'be quiet.' Coming to America is when you realize Christmas has a magical quality to it. In Russia, back in the day, it was a very religious holiday, so you don't celebrate Christmas if you're not Christian and if you're not at Mass. So, I being Jewish, was like, 'Christmas is not for you.' We come to America and we're like, 'Christmas is so inclusive.' We literally bought a Christmas tree. So as far as tradition goes, my family's big on any excuse to get the family together and get drunk. Whether it's Easter, which we've now all accepted into our Jewish household, or Christmas, it doesn't matter. It's all family time, but having kids, we're building up our own little versions of tradition.
One of those traditions actually includes not buying Christmas gifts for the kids.
She continued,
So far, our tradition is no presents for the kids. We're instituting it this year because when the kids are [younger than] one, it doesn't really matter. Last year when we celebrated Christmas, Wyatt was 2 and it was too much. We didn't give her anything — it was the grandparents. The kid no longer appreciates the one gift. They don't even know what they're expecting; they're just expecting stuff. We've told our parents, 'We're begging you — if you have to give her something, pick one gift. Otherwise, we'd like to take a charitable donation, to the Children's Hospital or a pet [or] whatever you want.' That's our new tradition.
Honestly, I can't imagine that Kutcher and Kunis' kids want for anything — so the charity aspect is actually a really interesting idea for the holidays.
When it comes to stuff, the couple tries to keep it minimal, but the family loves experiences. Kunis said,
I can write you a book on kid-friendly activities anywhere in the world. Because that's what we do. We used to be like, 'What's the coolest club?' and [now] I'm like, 'Let me tell you about the zoo in Atlanta and the bouncy house.' There's not one kid activity that I haven't done yet with my child!
Overall, Kunis and Kutcher seem like awesome parents. They are also one of the cutest couples to grace our world. Thanks for being you, guys.
Check out the entire Gen Why series and other videos on Facebook and the Bustle app across Apple TV, Roku, and Amazon Fire TV.