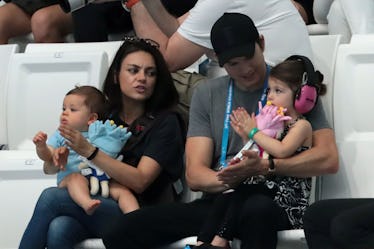 Mila Kunis & Ashton Kutcher Aren't Giving Their Kids Christmas Presents For One Reason
STRINGER/AFP/Getty Images
Mila Kunis is starring in A Bad Moms Christmas this November, and it seems as if she's taken a bit of the plot home with her! In a recent interview with Entertainment Tonight, Kunis dished on her and Ashton Kutcher's plans for their family this holiday season and their plans may surprise you. Get this: Mila Kunis and Ashton Kutcher's kids aren't getting Christmas presents from their parents, and they have a good reason for it.
Kunis started off by saying she and Kutcher are super dedicated to making sure their kids, Wyatt and Dimitri, don't grow up to be jerks. She said, "Yeah, we're not gonna raise a**holes. There's enough a**holes in this world! We don't need to contribute. But, you know, there's some nice people." This "people pretty much suck across the board, but there are some good ones" attitude is exactly how I feel about all things. She also explained that her upbringing in Russia (if you didn't know she's from Russia, now you do) and her moving to the U.S. shaped her family's ideas of holiday traditions. She said,
I come from communist Russia, where you're not allowed to be happy, so my holiday traditions are 'be quiet.' Coming to America is when you realize Christmas has a magical quality to it. In Russia, back in the day, it was a very religious holiday, so you don't celebrate Christmas if you're not Christian and if you're not at Mass. So, I being Jewish, was like, 'Christmas is not for you.' We come to America and we're like, 'Christmas is so inclusive.' We literally bought a Christmas tree. So as far as tradition goes, my family's big on any excuse to get the family together and get drunk. Whether it's Easter, which we've now all accepted into our Jewish household, or Christmas, it doesn't matter. It's all family time, but having kids, we're building up our own little versions of tradition.
She then added that she and Kutcher aren't giving their kids Christmas presents because they don't want their kids to expect to be given a boatload of presents every year. She said,
So far, our tradition is no presents for the kids. We're instituting it this year because when the kids are [younger than] one, it doesn't really matter. Last year when we celebrated Christmas, Wyatt was two and it was too much. We didn't give her anything — it was the grandparents. The kid no longer appreciates the one gift. They don't even know what they're expecting; they're just expecting stuff. We've told our parents, 'We're begging you — if you have to give her something, pick one gift. Otherwise, we'd like to take a charitable donation, to the Children's Hospital or a pet [or] whatever you want.' That's our new tradition.
Kunis also revealed she and Kutcher take the whole family along when they're working. When Kunis started filming A Bad Moms Christmas, the whole family apparently set up camp in Atlanta where the movie was being filmed. And when it comes to family-friendly activities when they're out traveling, Kunis says she's all about taking her kids out and exploring the new spaces around them. She said,
I can write you a book on kid-friendly activities anywhere in the world. Because that's what we do. We used to be like, 'What's the coolest club?' and [now] I'm like, 'Let me tell you about the zoo in Atlanta and the bouncy house.' There's not one kid activity that I haven't done yet with my child!
It sounds to me like Wyatt and Dimitri are having a pretty awesome childhood so far. Kunis also revealed what it took for her to get back in shape after giving birth to Dimitri, who will be turning 1 soon. She said she basically was just committed to her gym routine and kept living a healthy lifestyle. The actress said getting rid of the baby weight required, "Lots of gym-ing. I hate someone who's like, 'This is all natural.' Bullsh*t. It's not natural." So in case you were wondering how the Kunis/Kutcher family is doing, they're all all right.