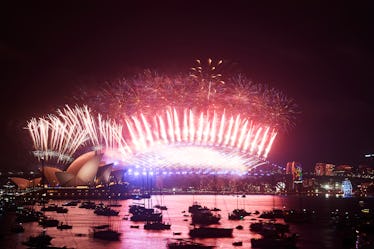 Some Countries Already Celebrated NYE & The Pics Will Get You Stoked For Midnight
Brett Hemmings/Getty Images News/Getty Images
As the number of hours remaining in 2017 dwindles down, you're likely busy solidifying those last few details (or all of them) of your New Year's Eve plans. Thanks to the wonderful world of time zones, you can actually get a peek into the future that is 2018. In fact, some places have been ringing in the new year for hours already, and these photos of 2018 NYE celebrations around the world will definitely get you pumped to pop open the champagne at midnight.
People residing in the countries of Kiribati, Tonga, and Samoa have the unique distinction of being the first in the world (yes, the entire world) to welcome the new year. As of writing this post, it's very early in the morning on Jan. 1, 2018 in those three countries, so it's safe to say that many of those New Year's Eve partiers are snoozing at the moment. Another country that has the privilege of being one of the first to see the new year is Australia — they're only three hours behind.
These New Year's Eve party peeps managed to snap some beautiful images of the celebrations that ensued at the stroke of midnight before they went off to bed for a new year's slumber.
The Sydney fireworks show in Australia should make for a g'day (er, year), mate!
Australia really had no shortage of celebrations.
That settles it. I'm booking it to Australia to ring in 2019 next year.
I mean, just look at these fireworks shows!
It looks like 2018 is off to a colorful start in Australia, and honestly, can I just replay these celebrations at midnight? Like, can they really be topped?
Japan is in 2018 now, too, and of course, fireworks are a big part of their celebration, as well.
If the future of 2018 is as bright as this fireworks display, then sign me up.
Seoul's countdown clock helped kick off South Korea's 2018 in style.
I think I'll make "watching 2018 NYE celebrations around the world" my new year's resolution, because I could do this all damn day.
Hong Kong's New Year's Eve celebrations don't look too shabby either.
I've always enjoyed fireworks, but the colorful displays that these countries are serving up are seriously on point.
Taiwan definitely got the New Year's Eve fireworks memo, too.
From the looks of it, they did not disappoint.
Malaysia knows it's not really the new year unless you have some gorgeous pink fireworks.
Not bad for a hotel room view.
Indonesia's fireworks display looks like a fun twist on a classic New Year's Eve celebration.
There are literally fireworks everywhere you turn.
Beijing made sure to turn on all of the lights to welcome in 2018.
No word yet on whether Kanye West's "All of the Lights" is the accompanying soundtrack, though.
If I had to pinpoint the one thing that all of these celebrations have in common, I'd have to say, um... fireworks? OK, I kid, but it really does look like the best (and most colorful) way to ring in the new year.
While there aren't any videos from the earliest celebrations in Samoa, there is an interesting fun fact about the Samoan islands with regard to New Year's Eve. According to The Telegraph, you could theoretically ring in the new year on the island of Samoa located in Polynesia and then fly across the international dateline to American Samoa (which is a U.S. territory) and also celebrate New Year's Eve there 12 hours later — since American Samoa is one of the last places to ring in the new year. This is all because in 2011, Samoa in Polynesia moved to the western side of the dateline, which then made it the first country to celebrate the new year (instead of the last).
Hey, the more you know, right? Plus, now you can share this fun trivia at your NYE soirée tonight (and solidify your status as the cool, worldly one of the group). Whatever you have planned for this New Year's Eve, I hope you enjoy ringing in the new year with your closest friends and family. Oh, and be on the lookout for those famous New Year's Eve fireworks.
Check out the entire Gen Why series and other videos on Facebook and the Bustle app across Apple TV, Roku, and Amazon Fire TV.