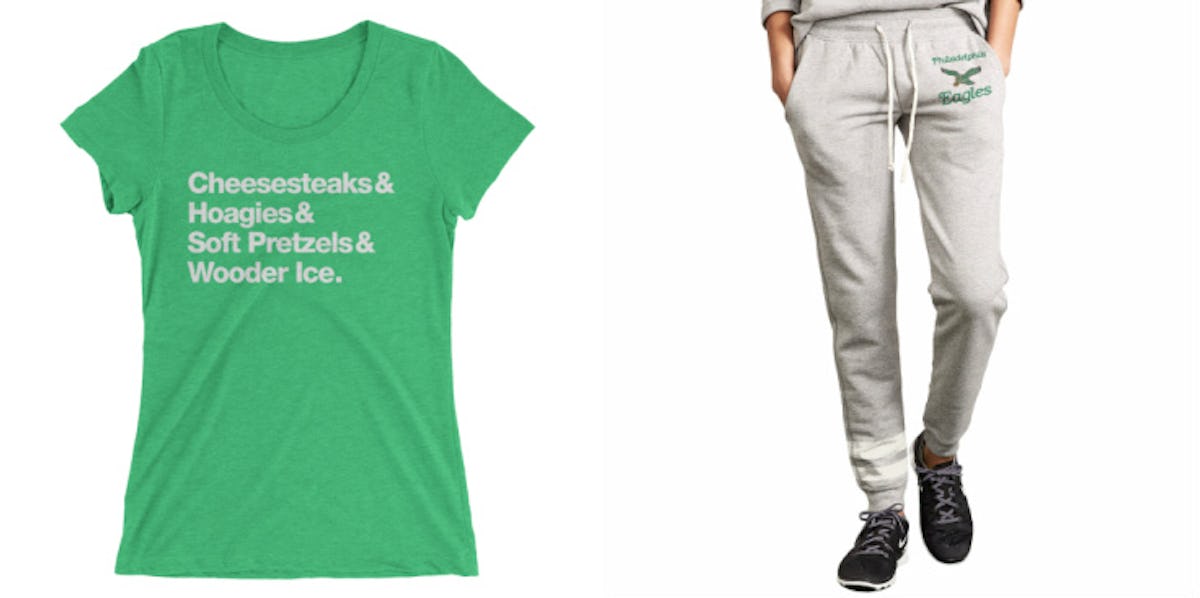 Philadelphia Eagles Merch For Women So You Can Fly Eagles Fly To Superbowl Victory
Courtesy of Aphillyated/Shribe Vintage Sports
Sunday Feb. 4, 2018 will be Super Bowl LII, and it's between two teams with fiercely devoted fans. The New England Patriots will play the Philadelphia Eagles, and now is the time to score Philadelphia Eagles merch for women, so you can cheer and drink beer in style.
I usually have very little interest in football but I grew up in the Philadelphia area so I'm slightly more invested in this year's Super Bowl. The Eagles haven't been to the Super Bowl since 2004 when they also played against the New England Patriots, and lost. Before that, the team hadn't been to the championship game since 1980, when they also lost. The Eagles may not be the best team in the league but many would argue that they have the most devoted fans. When the Eagles played the NFC Championship game against the Vikings, Philly cops greased lamp poles with Crisco to keep fans from climbing up them (it didn't stop them). A local doughnut shop created an Eagles Fan on a Greased Pole doughnut to commemorate the evening.
I'll leave the post-Super Bowl pole greasing plans to the professionals, but my field of expertise is equally important here. If you've been wondering what to wear to the Super Bowl, and you're an Eagles fan, look no further. I've collected all the best, and cute, Eagles merch for women (no pink allowed) so you can look cute AF while you rep the birds.
Women's Fanatics Branded Heather Gray Philadelphia Eagles 2018 Underdog Slim Fit V-Neck T-Shirt
($33; philadelphiaeagles.com)
The Eagles have been dubbed the underdogs of the Super Bowl (they've won zero titles while the Patriots have won five times), so you can show off your support for the little guy in this puppy-printed T-shirt. Plus, all proceeds from the underdog shirts are being donated to the Philadelphia School District.
Good Vibes Conshy Gang Green Sweatshirt
($30; etsy.com)
A local Philadelphia maker is rebranding the infectious disease Gangrene — this sweatshirt will definitely get you a few laughs on Super Bowl Sunday.
Jawn Clothing Blackout Eagles Jawn
($28; jawnclothing.com)
Another local business is embracing the Philly term "jawn," which can mean pretty much anything (an object, situation, or situation can be a jawn). The Super Bowl is a particularly important jawn, though.
Aphillyated Women's Cheesesteaks Tee
($24; aphillyated.com)
Go a little more low-key with your Philly pride in this shirt that shows off your love of all the city's finest foods. The things I would do for a Wawa hoagie right now...
($20; sportsfevercal.com)
An Eagles knit beanie will keep you warm come game day, and I'm a sucker for a pom pom hat so there's nothing to lose here (except for the game).
Bradford Exchange Philadelphia Eagles Women's Canvas Sneakers
($70; bradfordexchange.com)
Show off your bird fever head to toe (literally) in these Eagles sneakers. No one will question your dedication.
Shibe Vintage Sports Philadelphia Eagles Woman's Sunday Sweatpants
($55; shibevintagesports.com)
Sports aside, the Super Bowl is really just an excuse to drink beer and eat deep fried foods, is it not? These sweatpants will comfortably swaddle your impending food baby while still showing off your team pride.
Philadelphia Independents Philadelphia Eagles T-Shirt
($28; philadelphiaindependents.com)
This shirt is artsy AF — it has a predatory-looking Eagle with the city's skyline drawn within the bird's feathers. The Schuylkill River has never looked so good.
Philadelphia Eagles Scarf
($13; etsy.com)
Look, polka dots! That's all, I just love polka dots. This scarf is great to keep on indoors though, not too heavy, you can wear it all game long.
E-A-G-L-E-S Eagles!