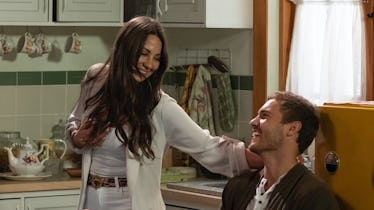 Here's Literally Everything Peter Has Said About Kelley — It's A Lot
Francisco Roman/Walt Disney Television/Getty Images
Apparently, third time's the charm for Pilot Pete. After breaking off his engagement with Hannah Ann Sluss and failing to rekindle his romance with Madison Prewett, it seems like the star of The Bachelor Season 24 has finally found his co-pilot for life. Not all fans have been terribly receptive to his new romance, but there's no denying Peter Weber's quotes about Kelley Flanagan are cute AF. IMO, their relationship almost makes up for the total dumpster fire that was Weber's season.
Flanagan had a leg up on the competition from the very beginning, since she and pilot coincidentally met in a hotel lobby in California a month before filming started. The attorney wasn't even certain about participating in the show, but after meeting Weber, she ultimately said yes. They may not have ended up together on the show, but Weber seems to think everything worked out the way it did for a reason.
During a May 19 Cameo vid Weber sent to a fan, he explained that — even though he still genuinely believes in The Bachelor formula — he thinks he and Flanagan were meant to fall in love organically. "And that's OK, that's totally OK because each relationship is different," he added. Please enjoy these other sweet things Weber has said about Flanagan over the past year.