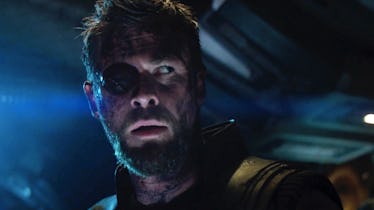 Peter Dinklage's 'Avengers: Infinity War' Character May Have Been Revealed In This New Clip
Marvel
Every time fans turn around, it seems like they're adding more actors to Avengers: Infinity War. The film arrives next week, and yet it was only a day or two ago that the production revealed that actress Carrie Coon (of the sublime series The Leftovers) was actually part of the movie as well, as Thanos' right-hand woman Proxima Midnight. Peter Dinklage is also confirmed to be in the cast, but no one will say who he's playing. Now it looks like Peter Dinklage's Avengers: Infinity War character may have accidentally been revealed in the Marvel clip shown on Good Morning America on Thursday morning, April 19, one week before the film goes into previews.
Fans have been theorizing that Dinklage might be one of the other members of Thanos' band of villains that he brings with him to Earth. Known as the Black Order, these are Thanos' adopted children, not unlike Nebula and Gamora used to be. (In fact, we first heard about the Black Order in Guardians of the Galaxy.) But if that was so, Dinklage might be unrecognizable, buried under layers of CGI. The Russo brothers who directed the film promised that was not so. We'd recognize him right away....we just might do a double take when we did.
It may take you a beat or two, but you'll certainly recognize him.
It looks like they were right too. The character that fans think is Dinklage only appears on screen for about 3 seconds, that proverbial "beat or two," enough to deliver a line right before the screen fades to black. And yet fans are certain it's him.
The clip starts at 3:28 in the segment.
It doesn't look that much like Dinklage, but it doesn't look unlike him either. The face could be recognizably Dinklage, with a better close up anyway. And the one line "I can't," sure sounds like Tyrion Lannister, just a whole lot more gravely than we're used to. Seems like the constant wine drinking did a number to his voice anyway.
To be clear, if this is Dinklage, that means that fans guessed right. The character in question lying on the ground is Corvus Glaive, the only member of the Black Order that doesn't have an actor already connected to him. The other two, Ebony Maw and Cull Obsidian, are being played by Tom Vaughan-Lawlor (Peaky Blinders) and Terry Notary (who is well known for his motion capture work, including the Planet of the Apes reboot series, and The Hobbit trilogy.)
If this is Dinklage that means fans have learned who every major actor in the film is played by, with only a week to go. This is a film with 30+ major Hollywood stars (and counting) as part of the cast, and it's an impressive line-up. Infinity War really is Infinite Stars.
This isn't the only clip GMA has blessed us with this week. As ABC is owned by Disney, which also owns Marvel's MCU, the teasers have been coming on and off all week on the morning show, including a great one of Shuri taking down Bruce Banner with a single well-placed question.
The look on Vision's face speaks volumes. "Yeah, Bruce, why *didn't* you do that?" Well, next time. For those looking for more proof that Shuri is poised to take over for Tony Stark when Robert Downey Jr. retires after the next two films, GMA is certainly handing out hope for Shuri in an Iron Man suit.
Avengers: Infinity War arrives in theaters everywhere on Friday, April 27, 2018. The still-untitled Avengers 4 follows in one year's time, on May 3, 2019.