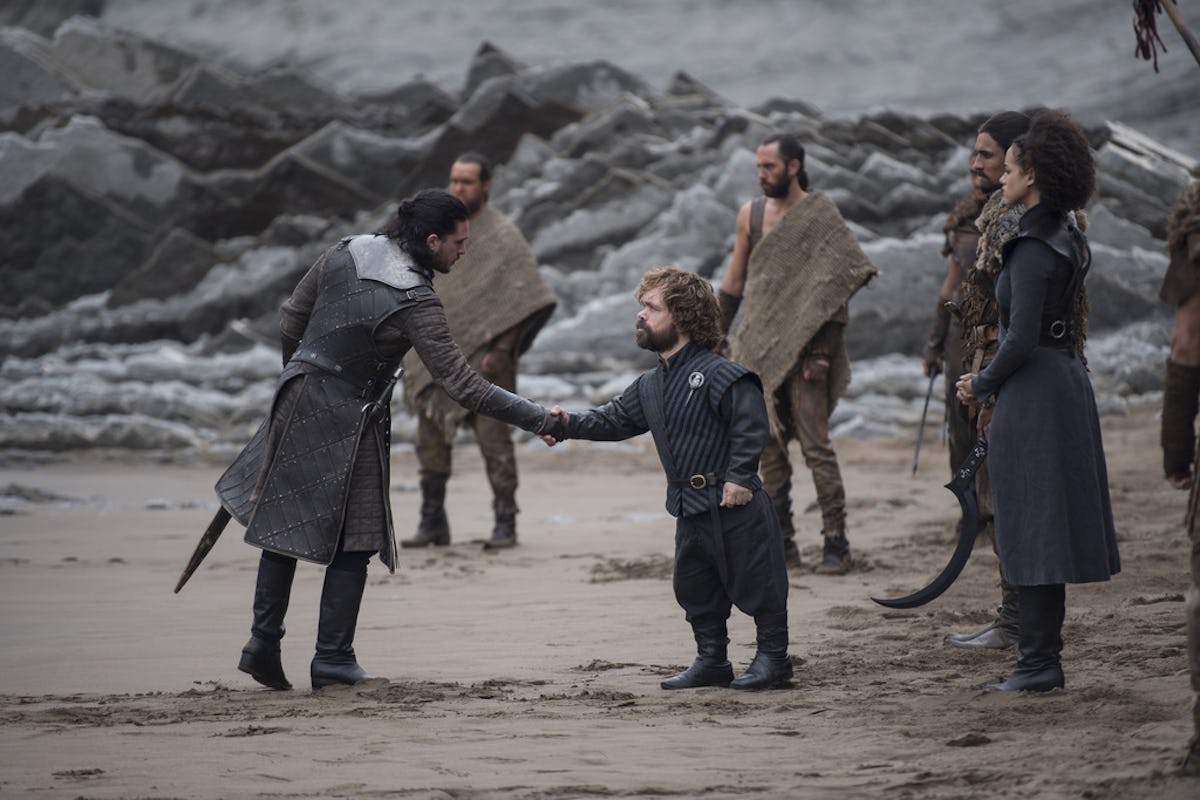 If You Were Disappointed By 'Game Of Thrones' Last Season, There's Still Hope
Macall B. Polay/Courtesy of HBO
Game of Thrones has been a global phenomena for the past seven years, pulling in millions of viewers who gush in thirsting anticipation and excitement for the series each week. Though it's been a popular and critically-acclaimed series pretty much since it premiered, the last season suffered heavy criticisms for its lackluster story lines, leaving some fans worried that the show has run its course. With one season left before the show ends forever, Peter Dinklage talked about Game of Thrones Season 8 and gave us hope for what the next season could have in store.
In an interview with Variety on Jan. 20, Dinklage expressed that it was time for the show to end rather than "jumping the shark," and staying on past its expiration date. "It's time," he said. "Story-wise, not just for all our lives. It's the perfect time to end it. Sometimes shows stay on a little too long, the jumping-the-shark thing."
He also admitted that moving on from a show he's dedicated the last seven years of his life to is "bittersweet." He said,
This is the final season, so it's pretty long, it's a long one. We're really taking our time with this one. It's bittersweet. It's time to move on with everything, so it's the sad part of our business, we get pockets of great people for short amounts of time and then you have to move on and it's always heartbreaking, especially when you've spent more than a couple months with people.
His statement could give hope to fans who were worried about whether or not the show was out of steam.
Season 7 of Game of Thrones was criticized for its weak and predictable storylines, rushed character development (and weirdly speedy travel?), and boring dialogue. Critics panned the season for apparently losing its patience with the slow burn of politics and rushing from major set piece to set piece, moving away from the reality-based, no-one-is-safe approach to character deaths, and the supremely weird chemistry between Jon and Daenerys. By the end of the season, many fans were wondering if the fantastical series has run its course.
But Dinklage assured fans that they've taken their time with the next season.
"It's pretty long ... long one," Dinklage told Variety. "We liked taking our time with this one."
We know that episodes will be long for the show's eighth season, which would give viewers a movie-like experience, according to Mirror. And since HBO has announced that the show won't be returning until 2019, let's hope that they really do take their time with the final season and create one for the books.
People related to the series shared that Season 8 would be an epic one.
In an interview with Mirror on Jan. 12, fellow cast member Kit Harington (aka Jon Snow) said they've been working hard to complete the final season. He said,
We know we have six episodes — we are not sure whether they will run for 70 minutes or even 90 minutes. That does not mean season 8 is anywhere close to premiering. But fear not, the cast and crew is hard at work filming in Ireland ... There is so much work still to do. We haven't put together a full episode yet as there is more filming. The length will be a network decision. But we are busy.
He also told Deadline in 2017 that they were stepping up their game for the series' finale. He said,
Whereas before, every year there's always been a bit of pressure, this season is one where we could easily let people down. Obviously, we don't want to do that so we're very much stepping up everyone's game which is very apparent, at least to me.
On Jan. 11, Casey Bloys, HBO's top programming boss, told Entertainment Weekly that the show would be done to its "highest level of quality." He said,
Here's what I'll tell you: They take the time they need to do the show at its highest level of quality. As the show has gone on, it's gotten bigger — big battle scenes, big special effects. These things take time.
Personally, I like the fact that the cast has decided to end the show rather than drawing it out. I've hated seeing some of my favorite shows stay on past their expiration date and ruin their legacy IMO, so it's awesome that this cast knows how to call it quits, especially if the last season is going to be as amazing as it sounds.
Besides, since the entire show is based on a book series with a definitive ending, we always knew it had to stop somewhere. But with any luck, the next season will be epic enough to make up for it. Let's hope.