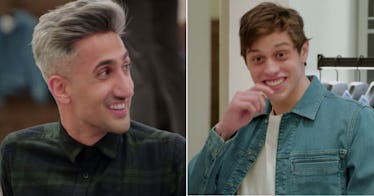 Pete Davidson Asked 'Queer Eye' Star Tan France To Dress Him For His Wedding & Yes Please
YouTube/SNL
Let me be very, very, clear: I love Queer Eye. I love Antoni Porowski and his cooking lessons. I love Bobby Berk and his absurdly amazing interior design skills. I'm literally obsessed with Jonathan Van Ness and his ability to cut hair, hunnie. I can't get over how Karamo Brown is basically a psychiatrist to all that are featured on the show. But without Tan France, this show simply wouldn't be possible. He gives the BEST fashion advice (it's a French Tuck, look it up), and helps those with minimal fashion knowledge turn into red-carpet-ready versions of themselves. There is nothing purer than watching France find the perfect wardrobe for the show's guest, and watching the guest's face light up when they realize how stellar they look in their new clothes. But guess what, world? Apparently, France's out-of-this-world fashion tips aren't just meant for us regular humans — celebs are asking for his help, too! And believe me when I say that when I heard Pete Davidson wants Tan France to dress him for his wedding to Ariana Grande, I was like, PLEASE, TAN, MAKE THIS HAPPEN.
According to Page Six, Pete Davidson asked fashion expert Tan France to help him out with his wedding wardrobe. France, 35, said that he'd "absolutely" be happy to help assist the Saturday Night Live star for his big day. "He asked if I'd help him, the answer is yes."
Love doesn't even begin to cover it, TBH.
Back in March, France went shopping with Davidson for an SNL sketch, where Davidson said he "felt like Timothée Chalamet" after France got through with him. It's a pretty hilarious skit, but it's a little cringe-worthy to look back on, considering Davidson was hoping to learn how to dress to impress his girlfriend at the time, Cazzie David's family:
Davidson does look pretty suave in that trench coat, though. Tan knows what he's doing, you guys.
Then, on June 24, the Queer Eye stars all appeared on Watch What Happens Live With Andy Cohen, where the topic of Pete Davidson and Ariana Grande's engagement was brought up (because honestly, how could it not?). France confirmed that he "just went shopping with [Davidson] a couple of days ago," and expressed his support for their relationship. He said,
I'm very, very happy for them. I couldn't be more happy. I think if anybody finds love that's amazing. I will always support that ... I told my husband five days into it that I would marry him, he said the same. And we're together 10 years later, so who knows?
Hey, if it can happen for Tan, it can totally happen for Pete and Ariana.
I can believe, Jonathan. Trust.
You can watch all of the fabulous men (including Andy Cohen) in the clip below, and if you've never seen Queer Eye, consider this just a very, very small taste of what you'd see from these guys on the show:
God, I love them.
Say what you want about Grande and Davidson's quickie engagement, but at the end of the day, these two seem completely enamored with each other, and we should be happy for them. I mean, Pete Davidson's comments about Ariana Grande on The Tonight Show clearly prove just how psyched he is to be marrying her. On June 20, he sat down with Jimmy Fallon, and Fallon said, "You know, you didn't have to get engaged to Ariana Grande to come on our show." Davidson just smiled and responded, "But I did, though!" Get you a man who is that excited to tell the world he's marrying you, OK? Because that's a beautiful thing.
So let's all make space in our hearts to let a little love in. And space in our fridge for Antoni's guacamole, because that sh*t looks delicious.