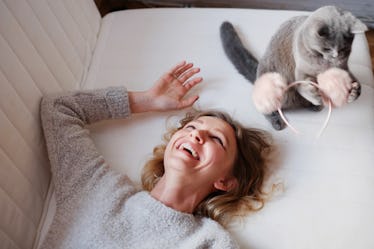 People Who Really Love Cats Can So Relate To These 8 Things
Calling all of my fellow cat lovers out there. There are some people in this world who love cats more than anything (Can I get a hell yeah?), and others who just haven't been converted yet. Fur real — how can you not love something so adorable? I just assume if you don't like cats, you just haven't given these fur babies a chance. For those of us on the right side of history, we understand each other and people who love cats can relate on so many levels.
I know that cats are just misunderstood creatures. They are fluffy best friends who will give you your space, but then also take up your space by sitting right down on your keyboard. They truly DGAF if you placed a cup of water on the edge of a table, because they will knock it off with their curiosity. You wouldn't expect Beyoncé to walk into a room like she didn't own it, so why are we faulting cats for having the same kind of cool attitude?
Not only will your cat cuddle with you on a bad day, but they can make you laugh uncontrollably at their sassy behavior. Seriously, these kitties can be the greatest friends you've ever had, and that's why we adore them so very much. Cat lovers, unite in these eight things we share together — because we have found the purrfect companions and we love them meow-y much.