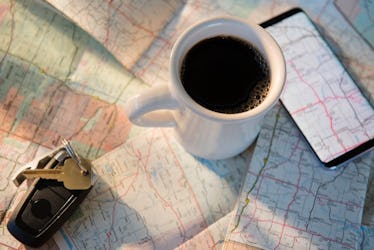 People Who Are Forgetful AF Go Through These 7 Struggles On A Daily Basis
When forgetfulness is one of your most frequent daily habits, life can become one long struggle, from the moment you leave your bed, to the time you crawl back into it. Being forgetful can cause punctuality to feel like a faraway dream, and can make even your closest friends and family start to turn on you. People who are forgetful AF go through a litany of struggles that normal, pulled-together human beings probably never have to face. It is the burden that I personally know all too well, having recently found a set of keys I'd lost months ago, stuck in the tube of my washing machine.
I lose keys, lipsticks, and credit cards on a seemingly constant rotation, and no matter how many pieces of advice my more-organized friends give me, I can't seem to change the fact that I'm a slightly disorganized, forgetful human being, and that's all there is to it.
If you have friends who are constantly forgetting something, try to have a little empathy, because it's often more annoying for them than it is for you. Here are seven struggles that forgetful people know all too well, that have the ability to make any given day a complete and utter nightmare in a matter of moments.