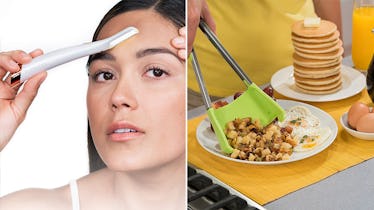 People Are Obsessed With These 42 Honestly *Genius* Products On Amazon
Amazon
What if many of your daily annoyances or household dilemmas could be solved with a single product? There's nothing like discovering inventive products that go on to change and improve your day-to-day life — and these 42 genius products that people are obsessed with and can't stop buying are all examples of genius, life-changing items you need.
Some of these genius products are all about keeping up appearances. Shop your way to a cleaner bathroom with the beard apron that catches all those little hairs while you shave. Clear up your skin while getting a good night's sleep with an anti-acne pillow spray that smells like lavender. Or buy a set of hair ties that (finally) won't snag strands or cause tension.
If you're shopping for your innovative products for your home, you can stock up on everything from plant-based sponges to rug grippers to one of my personal favorites on the list: a pack of wood markers that you can use to touch up dings or scratches on your favorite wooden pieces. Talk about saving money and time while seriously sprucing up your space.
These genius finds won't stay stocked long, so hurry and shop — you'll be glad you did.
This article was originally published on