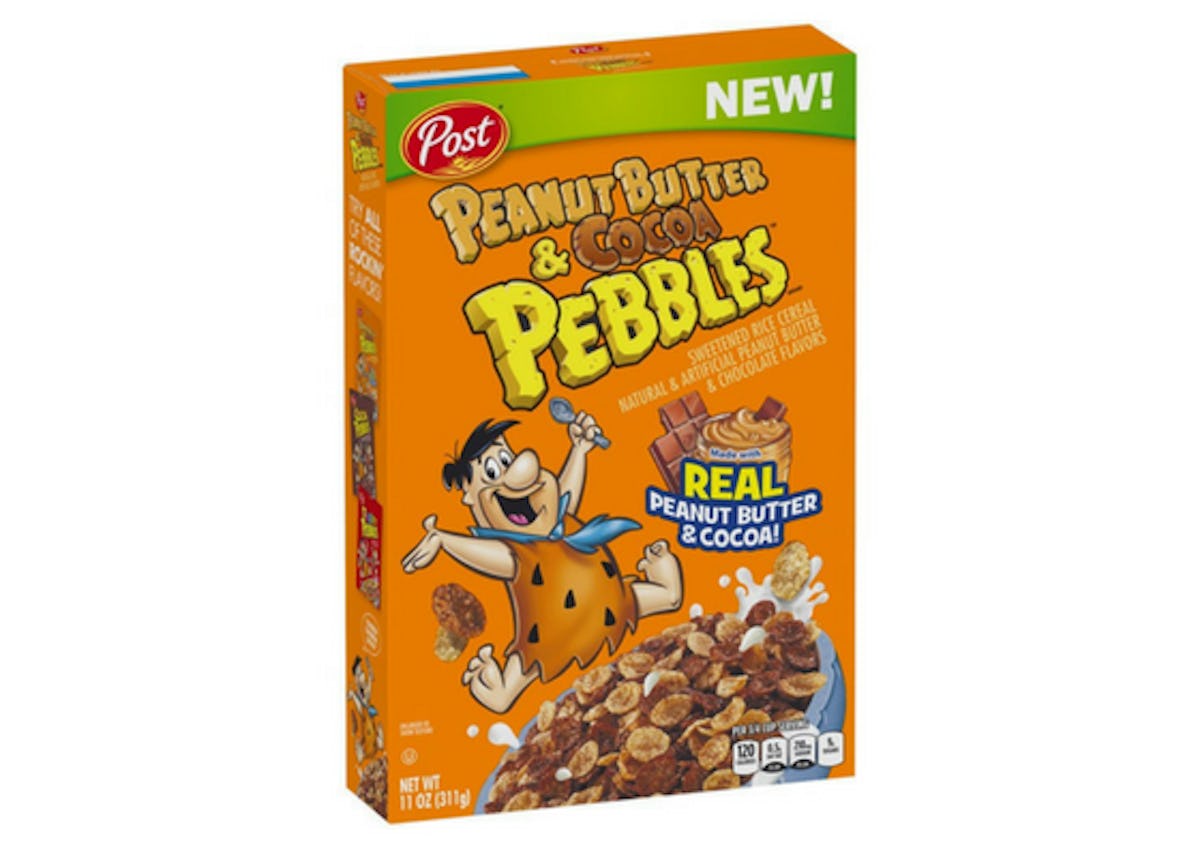 Peanut Butter & Cocoa Pebbles Cereal Exist & It's Basically Candy For Breakfast
The next time you are at the grocery store, make a beeline for the cereal aisle because there's a new box of breakfast in town — and you need it. The traditional Cocoa Pebbles you know and love now come in the same box as Peanut Butter Pebbles, creating the ultimate morning meal. Nothing goes together quite like peanut butter and chocolate. That's just a fact, in my book of life, anyway. Thanks to the new pairing of peanut butter and chocolate-flavored cereal bits from Post Consumer Brands, your breakfast game is about to become extra delicious. Just add milk to enjoy because Peanut Butter and Cocoa Pebbles exists and it is basically candy for breakfast.
The product is still very new to the market. In fact, it is so new that I can't even find it on the Post Consumer Brands products page but, alas, according to social media sleuths, this crunchy breakfast product really does exist. According to Delish, the Instagram account @junkbanter, which reviews unique junk food products as they hit store shelves, posted a picture of the Peanut Butter and Cocoa Pebbles cereal. The sweetened rice cereal is made with real peanut butter and cocoa cereal pieces, and can be purchased at your neighborhood Walmart store for $3.98 a box (price may vary depending on location).
The cereal is available for purchase on Amazon, but you'll have to buy in bulk. Not that there's anything wrong with that. Who doesn't need 12 boxes of cereal? Stock up for the next hurricane or future snowpocalypse later this year. (Oh by the way, hurricane season starts Friday, June 1.) Surely, you want to be deliciously prepared for the next big weather event. Or, you could just place an order and divvy up the boxes between you and a few friends. Keep at least two boxes for yourself, though, because you will go through one box in just a day or two. The peanut butter breakfast food is temporarily out of stock on Amazon, but go ahead and add it to your cart because as soon as it's back, the Prime-shipping retailer will get it to you ASAP.
The peanut butter and chocolate flavors probably remind you of your favorite candy, and there's nothing wrong with that. Who doesn't want to indulge a bit in the a.m.? So if you are thinking about reaching for a piece of candy for breakfast, now you can fill the void with something more substantial. Heck, you could even slice up a few pieces of banana and toss it on top for a little something extra.
Check out the 11-ounce orange box of PB and chocolate sitting pretty smack dab in between two other new Post Consumer Brands concoctions: Golden Oreo O's and Nilla Wafter Banana Pudding Cereal. All of these cereals are sold at Walmart, so when you stop for a box of Peanut Butter and Cocoa Pebbles, you might as well grab a box of each other new flavor for a little at-home taste testing.
There is just one question looms: How long will Peanut Butter and Cocoa Pebbles be available? Is this just a one-off, or will I be able to buy this cereal mashup for the rest of time? Post Consumer Brands is known for its longstanding cereal classics like Raisin Bran, Honey Bunches of Oats, and Fruity Pebbles. Maybe Peanut Butter and Cocoa Pebbles will be here to stay, even just for a while. One can only hope.
For now, hit up your local Walmart store, or place that Amazon order to get a taste for yourself. You won't regret it. I suggest you move quickly, though, before the cereal sells out.