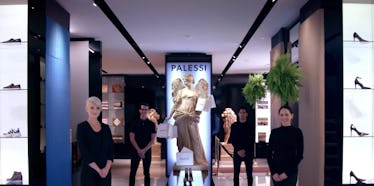 Payless Hilariously Pranked Influencers With A Fake High-End Shoe Store Called "Palessi"
At some point in your life, you've most likely met someone who could be known as a "brand-seeker," aka someone who would pay an exorbitant amount of money for something because it came from a designer brand. And recently, a popular shoe store known for its highly discounted shoes played a little trick of these kinds of consumers. Payless' "Palessi" store tricked brand-seeking customers into buying their products at incredibly high "designer" prices by simply putting a fake designer label on them. Honestly, it was a little disheartening, but it was also straight-up hilarious nonetheless.
Recently, discount shoe store chain Payless pulled the prank of my dreams. And even though it might seem a little extreme, some people got a good laugh out of it. The store took over what used to be an Armani store in Santa Monica, California, according to Adweek. They changed the name to "Palessi," and filled the posh-looking store with Payless boots, heels, sandals, and sneakers, proceeding to invite "VIP" partygoers and social media influencers to the store. The shoes that usually went for $20 were being sold for "designer prices," going anywhere between $200 to $600. The top offer was $640.
According to Adweek, the fictitious shoe store, "Palessi," racked up around $3,000 within a mere few hours (yep, you read that right!), and even though it'd be tempting, the store didn't keep the money. After paying at the register, the store "staff" informed them that the shoes were, in fact, Payless brand — not designer shoes — sending the disappointed influencers home with a free pair. Their reactions were caught on tape (which will obviously be used for Payless' advertising), and let me tell you, the reactions to the prank were absolutely priceless.
Prior to finding out that these shoes weren't designer brand, as you can see in the video, one woman was raving about the shoes, saying they were "stunning, elegant, and sophisticated." Once she found out she had been deceived, she rolled her eyes and groaned, "You've got to be kidding me." Another woman claimed she would pay $400-$500 for a pair, before finding out they were Payless. Watch the videos of the experiment below, because they'll definitely make you LOL.
Payless' Chief Marketing Officer, Sarah Couch, told Adweek that Payless wanted to tackle brand perception issues. Although the store doesn't sell any "designer labels," they want to show customers that their products are high-end, and extremely fashionable.
Couch told Adweek:
The campaign plays off of the enormous discrepancy and aims to remind consumers we are still a relevant place to shop for affordable fashion.
You'll be able to watch each of these testimonies in advertisements throughout the holidays, according to Adweek. They'll run on TV networks such as Bravo, Lifetime, TBS, Telemundo, and USA, as well as on social channels including YouTube, Facebook and Instagram.
Obviously, Twitter thought this was downright hilarious, because how could they not? The responses are amazing, so make sure to check them out, below.
It looks like people were very much here for this shoe label prank. In the realm of modern pranks, people are also starting to pull Tinder hoaxes. Yep, you may have heard about the infamous Tinder user, Natasha Aponte, who pulled off the biggest Tinder scheme in history. She swiped left on several guys, and convinced all of them to meet her at a music venue in Manhattan, New York to watch a DJ set. Instead, they all met up, and she had them perform "tricks" to "compete for her." It was a little harsh, if you ask me, but it was pretty funny nonetheless.
I, personally, am not a major prankster, but apparently Payless Shoes really knows how to pull of a good hoax. Whether you're big on designer brands or if you couldn't care less about that kind of thing, Payless seems to have some pretty solid, fashionable shoes that could pass for $600 kicks... TBH, I'm convinced.