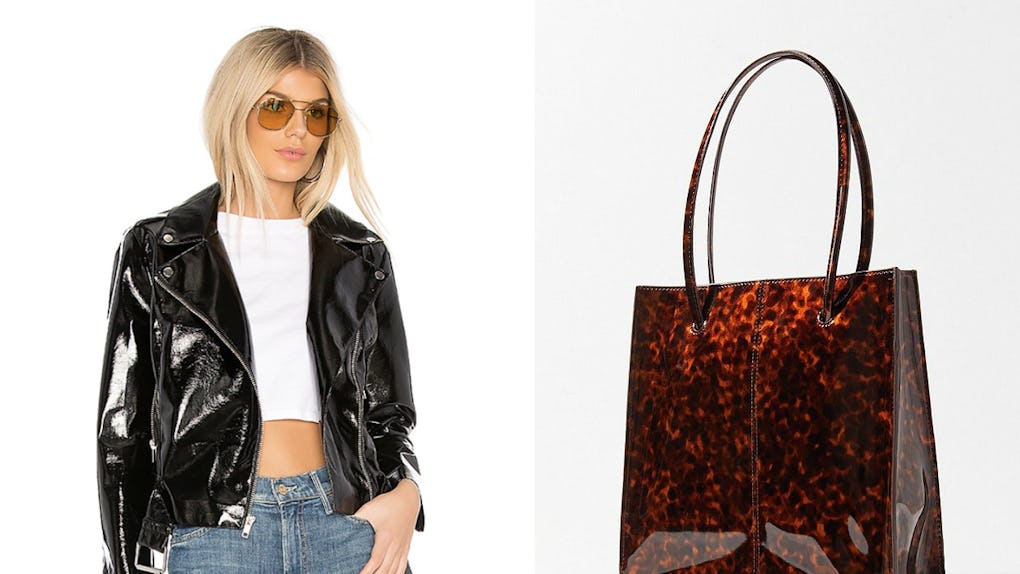 Revolve / Urban Outfitters
Patent Leather Shoes, Skirts, Jackets, & More That'll Help You Shine Your Way Through Fall
When it comes to fashion, fall is the season for cozy textures, rich prints, and luxe finishes. It's when fuzzy knits, classic plaids, and PVC really get to take the spotlight. And while patent leather shoes reign supreme when it comes to items that boast a super glossy sheen, patent jackets, shoes, bags, belts, and more are getting their time to shine this season, too. Prepare to channel your inner Trinity (this is a reference to The Matrix, for those of you born after 1999) because head-to-toe liquid leather has never been cooler.
Do you remember when Gigi Hadid and Zayn Malik nailed futuristic couple style when they stepped out wearing matching black trench coats in January of this year? Hadid's trench was patent and she looked cool AF. She's been heralded as having some of the coolest style out there as of late thanks to her ace team of stylists so if Gigi is already rocking the PVC trend then you know it's got to be chic.
If you only want to wear a touch of gloss here and there (that is, aside from on your lips), that's totally cool. Rather than reaching for a shiny black skirt and matching jacket, opt for one or the other—or, simply slip a patent belt around your hips for a super subtle sheen. You can find all of those items and more below.
Crinkle Cut
Who else wants fries now? While not edible, this crinkly biker jacket is exceptionally cool thanks to its intentionally worn out aesthetic and muted but still present shine.
Shell it Out
Tortoise shell glasses are classically chic, but what about a patent tortoise shell bag? Yep, equally as cool.
Optical Illusion
Okay, I know what you're thinking. But before you totally discount these pants that look like they have a thong sticking out of them, picture them paired with a black crewneck sweater or white button-up shirt. They're edgy, awesomely '90s, and undeniably sexy.
En Point
Thanks to their pointy toes, delicate studding detail, and geometric block heels, these elevated Mary Janes are the opposite of boring.
Powder Room
Add some pastel goodness to your fall wardrobe with this patent powder blue mini skirt. It'd look ace paired with white booties and an oversized chunky sweater.
Trinity 2.0
It's water resistant, shiny, and comes with a tieable belt. What more could you want from a trench?
Get Waisted
This belt would go with literally anything, from a dress to jeans and a sweater to a mini skirt. Belts are so often forgotten when it comes to accessories that pack a major punch—add this one to your closet now.
Ruby Slippers
These won't take you home when you click their heels together but they will make sure that no outfit of yours if ever called bland again.
Patent Law
Everyone who lives in a city that drops below 55 degrees in winter should own a black patent skirt. It's my fashion rule because it goes with everything and can be dressed up or down effortlessly.
Business as Usual
Fit for the office and beyond.
Red Hot
Change up your black patent game with a pop of red in skirt form.
Your New Go-Tos
Their heels are short but their silhouette still renders them head-turners.
Zip It
If miniskirts aren't your style, try this option that hits slightly above the knee instead.
Two-in-One
Tortoise plus patent belt. Win win.
Biker Babe
Your favorite fall staple but in uber-glossy form.
Booted Up
Because oxblood will never go out of style.