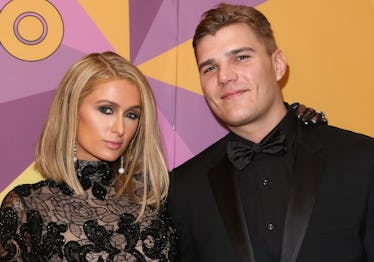 Paris Hilton's Wedding Is Definitely Going To Be Mind-Blowing & We Can't Wait To See The Photos
Do you guys think when Paris Hilton saw her engagement ring for the first time, she said, "That's hot?" I think about this a lot. One thing we do know for sure is Paris Hilton's wedding is going to be the freaking spectacle to end all spectacles, and we're here for it. If you're not convinced Hilton's wedding is going to be a huge event, uh, have you seen her engagement ring?! It's the size of my face! And I'm not even exaggerating that much when I say that! I legitimately think her ring is the size of at least my nose. Anyway, Paris Hilton's wedding is going to be mind-blowing.
News of Hilton's engagement to her boyfriend, The Leftovers actor Chris Zylka, came on Tuesday, Jan. 2, when Hilton posted a photo on her Instagram that showed Zylka down on one knee while they were on a ski trip in Aspen, Colorado. Hilton captioned the photo,
I said Yas! So happy & excited to be engaged to the love of my life. My best friend & soulmate. Perfect for me in every way. So dedicated, loyal, loving & kindhearted. I feel like the luckiest girl in the world! You are my dream come true! Thank you for showing me that fairytales do exist.
The first set of photos reveals the absolutely massive ring Zylka got for Hilton. Hilton then posted the video of the actual moment when Zylka proposed, and you see her reaction to the ring, which is a fitting, "Holy f*ck."
Paris Hilton's engagement ring is reportedly worth $2 million. The massive diamond that takes center stage on the ring is 20 carats and pear-shaped, and the platinum band is studded with 2-carat diamonds. Celebrity jeweler Michael Greene told People Zylka designed the ring himself and followed all of the engagement traditions before popping the question in Aspen. Greene said, "Paris at one point in time told Chris she really loved her mother's pear-shaped diamond, and when Chris came to me that was his request." He continued,
The pear-shaped really jumped out for him and ultimately for her. He did some fishing, but in the end it was all him. He's a smart guy, and hangs out a lot with the family, and I think she realized how much she liked her mom's ring. Paris was not involved. Chris did it all. He wanted to do everything so perfectly. He wants the best thing for his princess. And he did all the right things. He told me he had to set up a time to meet up with Paris' father to ask for her hand in marriage. He did the whole thing. All the traditions.
OK, OK, OK, enough about the ring. What about the actual wedding?!
Hilton tweeted on Jan. 7 asking fans to help her and Zylka come up with location ideas. She tweeted, "Chris and I are trying to decide where to do our wedding. We want to do it somewhere beautiful and romantic. Any suggestions?" Hilton and Zylka attended the 2018 Golden Globes and talked with Extra TV about their wedding plans. That's when Hilton dropped this golden nugget of a detail: They're thinking about having three separate weddings. THREE. Hilton told Extra TV, "For my 21st birthday I had five parties, so maybe for the wedding I'll have a European one, an American one, one for everyone around the world." Yeah, same. Hilton said they would reveal the possible wedding date "soon," and Zylka added, "We're going to have dinner with our parents to plan it."
Hilton's Aunt, Real Housewives star Kyle Richards, told Us Weekly that whenever their wedding will go down, it's going to be massive.
She told the outlet, "[It will be] over the top, like her ring!"
According to Hilton herself, yes! When asked by TMZ if she would be inviting Kim Kardashian to her wedding (three of them, please never forget this possibility), Hilton responded, "Of course!" That's hot.