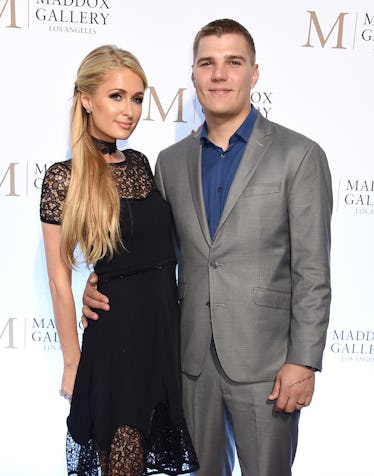 Paris Hilton & Chris Zylka Have Reportedly Broken Up After A 10-Month Engagement
Gregg DeGuire/Getty Images Entertainment/Getty Images
'Tis the season for comfort, love, and joy. But Paris Hilton is apparently opting for a season full of something else: independence. The 37-year-old former reality star and current DJ is reportedly newly single. Yup, Paris Hilton and Chris Zylka have broken up after a 10-month engagement and two years of dating. According to Entertainment Tonight, the two called it quits a few weeks ago. Elite Daily reached out to Zylka and Hilton's team for comment on the report, but did not hear back by the time of publication.
Another source close to the situation revealed exclusively to Just Jared that Hilton and Zylka broke off their engagement in the early days of November 2018.
"They broke up and called off their engagement earlier this month," the source explained. "Their relationship started to become off-kilter after about two years together."
According to Just Jared's source, Hilton and Zylka will turn their focus to professional pursuits in the wake of the breakup.
"Paris will be focusing on her brand like DJ-ing and fragrances while Chris will get back into acting and art, like his gallery pop-ups with Banksy during Art Basel," the source said.
Sad as the news of the breakup may be, Hilton seems to be living her best life right now. She even took to Instagram to declare her newfound independence:
So, I think it's safe to say Hilton will be alright in the end. But that doesn't mean the relationship wasn't deep or meaningful. When Zylka proposed to Hilton back in January 2018, Hilton used Instagram to express her happiness about marrying her "best friend and soulmate."
"I said Yas! 👰🏼💅🏼💍💎 So happy & excited to be engaged to the love of my life," Hilton wrote at the time. "My best friend & soulmate. Perfect for me in every way. So dedicated, loyal, loving & kindhearted. I feel like the luckiest girl in the world! You are my dream come true! Thank you for showing me that fairytales do exist.😍."
So, the relationship was good at one point in time. But the engagement was ill-fated from the beginning as the couple was forced to push back the wedding just a few months ago in August 2018. At the time, Hilton told Us Weekly that she didn't want to rush into the marriage since she and Zylka were supremely busy at the time.
"There would be no time to plan it," Hilton explained. "I don't want to rush something like this, I want to be perfect. I want to go directly from wedding to my honeymoon, not to just rush off to work, because it's theist [sic] special day of your life. I don't want to rush something like that. So, we're moving it to next year, just so we have time to have it be the perfect day. You can't rush perfection."
Unfortunately for Hilton and Zylka, pushing back the wedding seems to have come at a cost. With any luck, they'll find as much love and fulfillment in their future as they once did with each other.