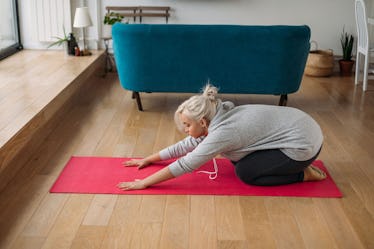 Only People Who Do Yoga At Home Can Relate To These 5 Serious Struggles
One of the most amazing things about yoga is that you can roll out your mat literally wherever you are and instantly squeeze in a feel-good flow to rejuvenate your body, mind, and soul — no yoga studio needed. Don't get me wrong: Yoga classes are great and all, but oftentimes, there simply aren't enough hours in the day to make it to one, and if you're like me, your bank account doesn't exactly have room for it, either. So, you resort to being one of the many people who do yoga at home, and most of the time, your remote mat-time is absolutely incredible — but there are some inevitable struggles that come along with a home yoga practice.
The struggle usually starts when you merely attempt to use your full range of motion in the shoebox apartment you call home. But then it escalates to your cat thinking she can claim residence atop your yoga mat, or your neighbors having disturbingly loud sex on the other side of the wall while you're trying to find your inner ~zen~. Seriously, what does a girl have to do to meditate in silence?!
On the real, though, most of the time, a home yoga practice is a convenient, awesome way to clear your mind after a hard day. But if you're someone who does yoga at home on the reg, there's no doubt in my mind that you've experienced at least a couple of these five serious struggles. We've all been there, right?