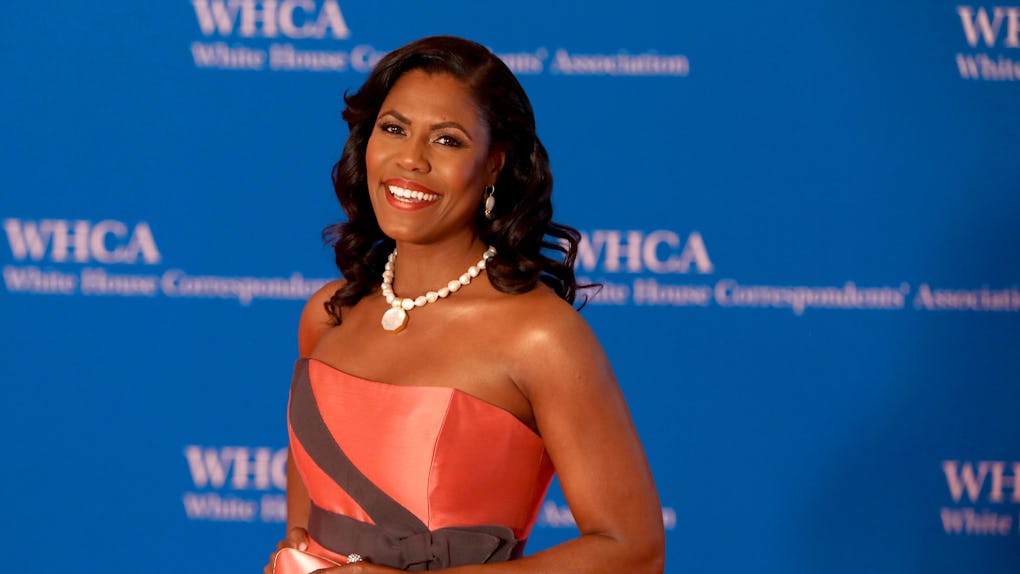 Tasos Katopodis/Getty Images Entertainment/Getty Images
Omarosa Manigault's Claim About The 'NYT' Op-Ed Author Is Naming Names
Former White House aide, reality TV star, and author Omarosa Manigault Newman is back in the spotlight on Monday after dropping her latest theory about who might have written the infamous anonymous op-ed from Sept. 5. The op-ed, which has dominated the news cycle for much of the last week, gave a damning account of the president and his administration. The author's identity still remains unknown, though numerous White House staffers have come out publicly to deny writing it. But Omarosa Manigault's claim about the New York Times op-ed presents an interesting theory — and it has to do with Vice President Mike Pence.
Speaking on ABC's The View on Monday, Sept. 10, Manigault said she thinks Nick Ayers, Pence's chief of staff, was the one to author the damning account. She told the hosts, "I suspect it is Pence's chief of staff." It's not clear whether Manigault has any proof to back up her claims. Elite Daily reached out to the vice president's office and the White House, as well as a representative for Manigault, for comment on her claims but did not hear back at time of publication.
Manigault explained that she thought it was someone "high up" in Pence's office because of the official's "senior" title, and that she suspected Ayers specifically because she'd recognized similarities in the anonymous author's writing to emails and documents she'd seen during her tenure in the White house.
"I went through every email that came out of Pence's office, because the tone of the op-ed sounded very much like his chief of staff," she told The View. "And sure enough, there's consistency in the writing style, the language that was chosen." Monday's interview was the second time Manigault has drawn a comparison about the writing styles in her explanation.
The op-ed paints a picture of a "resistance" inside the White House that operates behind the scenes to counter and thwart President Donald Trump, who it characterizes as an erratic leader. The op-ed also claims staffers have considered invoking the 25th Amendment to remove him from office.
The Washington Post points out that Pence, in an interview with CBS' Face The Nation on Sept. 9, said he was sure that none of his staff members wrote it. "I'm 100 percent confident that no one on the vice president's staff was involved in this anonymous editorial," he said, adding, "I know my people."
Jarrod Agen, Pence's deputy chief of staff and communications director, also publicly denied that anyone in the office had written it.
Last week, Manigault addressed rumors that the author might've been Pence or someone close to him. She said she has long had suspicions about the vice president, giving numerous warnings about the dangers of a Pence presidency. But her feelings only grew following the op-ed's publication, telling The Hill on Sept. 7, "I've never hidden my suspicion about the vice president's operation in the White House," adding, "I believe that his staff, his office might be trying to protect him, but with the ultimate goal of him becoming president of the United States."
Manigault took that claim about Pence one step further in her Monday interview. "They're already lining up donors," she told The View. "They've already got a staff that's helping to build his campaign." Elite Daily reached out to the White House for comment on this claim but did not immediately receive a response.
So who wrote the op-ed? The rest of us may never know, but at least Manigault can take comfort in her guesses.