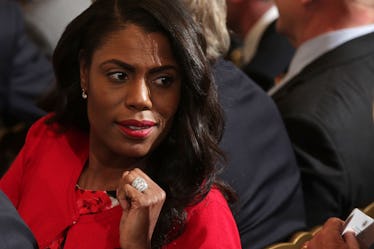 Omarosa Thinks She Knows Who The Anonymous 'NYT' Op-Ed Writer Is, Because Of Course
Alex Wong/Getty Images News/Getty Images
The world is shooketh over the scathing and anonymous op-ed a senior Trump administration official penned for The New York Times on Sept. 5. Since the mysterious piece hit (and broke) the internet, the hunt has been on for the identity of the writer. Could it be Attorney General Jeff Sessions, who has more than enough motive, given the incessant clashes between him and the president? Or did Mike Pence write the "Resistance" op-ed? Both men have denied writing it, but if you've been questioning the latter, you might be particularly interested in what former White House aide Omarosa Manigault Newman had to say about the subject.
During an appearance on Rising on Hill.TV on Friday, Sept. 7, Manigault hinted that Pence or people close to him could be the culprits who penned the anonymous story. According to The Hill, she told the show's hosts that the style of the op-ed felt oddly familiar to documents she saw coming out of Pence's office, explaining:
I've never hidden my suspicion about the vice president's operation in the White House. I went back through my emails and some of the documents that came out of the vice president's office, and I have to tell you, this op-ed is very similar to the style and communication that comes out of his shop.
She added, "I believe that his staff, his office might be trying to protect him, but with the ultimate goal of him becoming president of the United States."
Elite Daily reached out to the White House as well as a representative for Manigault for comment on her claims, but did not immediately receive a reply. A spokesperson for Pence's office, however, has already denied that the vice president was behind the story. On Sept. 6, Jarrod Agen, Pence's deputy chief of staff and communications director, said in a tweet:
The Vice President puts his name on his Op-Eds. The @nytimes should be ashamed and so should the person who wrote the false, illogical, and gutless op-ed. Our office is above such amateur acts.
Speculation about who penned the bombshell story — in which the author wrote about attempts to "thwart" President Donald Trump's presidential decisions while working in the White House alongside him — has been circulating since it was published on Sept. 5. Pence's name has come up more than once in the guessing game, due to startling similarities between the story's language and Mike Pence's previous speeches, particularly his use of the word "lodestar." Analysts have pointed out that the vice president used the term in at least two speeches he gave in 2017, per Fortune, which, rightfully, raised some eyebrows.
But Pence isn't the only guess in the mystery. Some have also tried to finger Secretary of State Mike Pompeo for writing the piece, noting that he's grown extremely close to Trump since taking on his position. However, Pompeo also struck down the claims on Sept. 6, telling reporters during a trip to New Delhi, India:
It's not mine. If it's accurate they should not well have chosen to take a disgruntled, deceptive, bad actor's word for anything and put it in their newspaper. It's sad more than anything else. I come from a place where if you're not in a position to execute the commander's intent, you have a singular option — that is to leave. And this person instead, according to the New York Times, chose not only to stay but to undermine what President Trump and this administration are trying to do.
Looks like we might not crack this mystery any time soon, considering all this back-and-forth. And TBH, this new curve ball from Manigault doesn't help clear the situation up either.