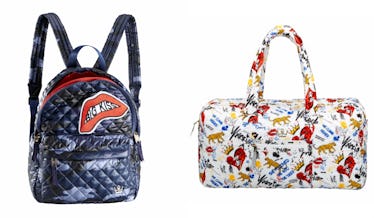 These Customizable Bags Are Machine Washable & Cute AF, So Time To Ditch Your Mom's Duffel
Oliver Thomas
Spring break is fast approaching, and as the long-awaited sign that summer is on the horizon, it's like a test run for all your new warm weather clothes. Deciding which beach looks to pack can be tough, but my number one spring break packing tip is to shop Oliver Thomas' machine washable bags. Because let's get real, you don't want to lug your childhood suitcase to Padre Island.
It's also time to lovingly dismiss that dusty old duffel bag you inherited from your older sibling, who got it from you parents, who got it from I don't even want to know where, because the bags of the future are here. Oliver Thomas bags are durable, lightweight, machine washable, and most important of all, super cute. The bags come in a variety of sizes, colors, and patterns and come with LOL-worthy patches to decorate them, so you can literally make each one your own.
Sue Fuller founded Oliver Thomas in July of 2017 (and named it after her adorable dog) because she was sick and tired of lugging around bags that weighed more than the stuff inside of them. Think of what you'll be packing for spring break — bathing suits, flip flops, sun dresses — a normal suitcase would end up being the heaviest part of it all. Oliver Thomas bags are all "lightweight, washable, water resistant, vegan and functional" —basically everything you need and nothing you don't.
Bag Lady
Every single Oliver Thomas bag is water-resistant (in case of major splashing by the pool) and machine washable (so when you get home you can wash off all the dirt and drunken mistakes from your trip). The duffle bag also has a special My Secret Stash Bottom compartment where you can hide all your dirty clothes and wet bathing suits on your journey home, so clutch when you think about those clothes that you just don't want to see again after wearing.
This tote is the ideal size for a quick weekend getaway, or to stash in your duffle to use as a beach bag. It comes with a detachable zipper pouch for your cell phone and wallet, and has a My Secret Stash Bottom to keep your wet bikini and sandy shoes away from your beach snacks. And it's got plenty of room to add as many fun patches as you'd like.
Each bag is all made of ultra-lightweight polyester, so they will only weigh as much as whatever you put in them. When you're not using your carryall, it folds up neatly into near nothingness, so you can practically pack a purse for every day of the trip.
This mini backpack is a great carry-on for a plane ride. Throw in your iPad, headphones, a few snacks, and you're good to go — just don't forget your boarding pass! This particular style boasts Oliver Thomas' "Keep Your Hands Off" RFID-blocking technology in the front pocket, so you don't need to worry about high-tech thieves stealing your information (just what kind of drink you're going to order when you land.)
Some nights a clutch just won't do: You need to be completely hands-free to dance/sing/properly embarrass yourself and not have a care in the world. This cross-body is big enough to hold most cell phones (even my giant iPhone 7 Plus) and offers extra zipper pockets and credit card slots, plus more of that RFID technology.
Patch It Up
The most fun you can have with an Oliver Thomas bag? Choose from dozens of novelty patches to make a statement without opening your mouth. These range from the hilarious (see above) to the preppy (monograms, anyone?) and every single one is a cinch to apply: simply blast with the hot heat of a blowdryer.
Get one large letter as a statement patch or spell out your initials for a sporty take on a monogram. Check out the rest of the cheeky patches here, and who said they're only for these bags? Add them to your jackets, jeans, hats, and anything else you'll be rocking this spring break.