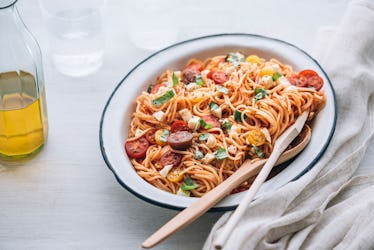 Here's What To Order At Olive Garden On National Pasta Day For A Tasty Deal
If I were to rank my favorite foods, pasta would be near the top, if not in the No. 1 spot. There's no denying that pasta is a versatile food that can be made in a variety of ways. Oh, and in case you haven't heard, Wednesday, Oct. 17, is National Pasta Day. Instead of cooking up a pot of noodles at home, head out and enjoy Olive Garden's Never Ending Pasta Bowl for National Pasta Day. With more than 100 pasta combinations, Olive Garden's Never Ending Pasta Bowl delivers a savory celebration just in time for National Pasta Day.
National Pasta Day, which, mind you has its very own website, has been celebrated for many years. While lots of restaurants are getting in on the National Pasta Day fun, Olive Garden takes the cake for the best deal, IMO. I mean, the Italian restaurant is basically a mecca for delicious pasta dishes here in the United States. So, what is Olive Garden cooking up for National Pasta Day? There's no special deal that is specific to National Pasta Day, but the noodle holiday does happen to fall smack dab in the middle of Olive Garden's Never Ending Pasta promotion. Talk about perfect timing.
If you're not familiar with Olive Garden's Never Ending Pasta deal, allow me to inform you. The Never Ending Pasta promotion is just that — you really can have as much as you want. The savory offer starts at $10.99 per person and also includes unlimited breadsticks, as well as your choice of soup or salad, according to Olive Garden.
There are seven different types of pasta (!!!) you can choose from including fettuccine, spaghetti, rigatoni, angel hair, cavatappi, gluten-free rotini, and whole grain linguine. Each pasta can be paired with one of the following sauces such as the Olive Garden's new Creamy Spinach and Artichoke, Creamy Mushroom, Traditional Marinara, Five Cheese Marinara, Traditional Meat Sauce, and Alfredo. Yum. It's time to start thinking about your order.
But wait, there's more. In addition to choosing your own pasta and sauce, you can also select from the following toppings to really give your pasta dish a little something extra:
Garden Veggies
Meatballs
Italian Sausage
Crispy Chicken Fritta
Grilled Chicken
Crispy Shrimp Fritta
Take note that prices may vary depending on where you live. For example, customers who dine at Olive Garden restaurants in Alaska, California, Puerto Rico, Canada, as well as the restaurant's location in Times Square may be met with a different price, according to Olive Garden. Don't let that keep you away from enjoying a bowl (or four) during the Never Ending Pasta Deal promotion, and especially not on National Pasta Day.
Olive Garden began offering its Never Ending Pasta Bowl promotion on Monday, Sept. 24. The deal wraps up on Saturday, Nov. 18. You've still got plenty of time to enjoy this deal. But, if there's any day to celebrate with unlimited servings of the good stuff, it's on National Pasta Day.
I'm a traditional spaghetti and meatballs kind of girl, but I'm always down for mixing it up. I think a bowl of fettuccine Alfredo with grilled chicken just might be in my future. It's the least I can do to pay homage to one of my favorite foods on National Pasta Day.