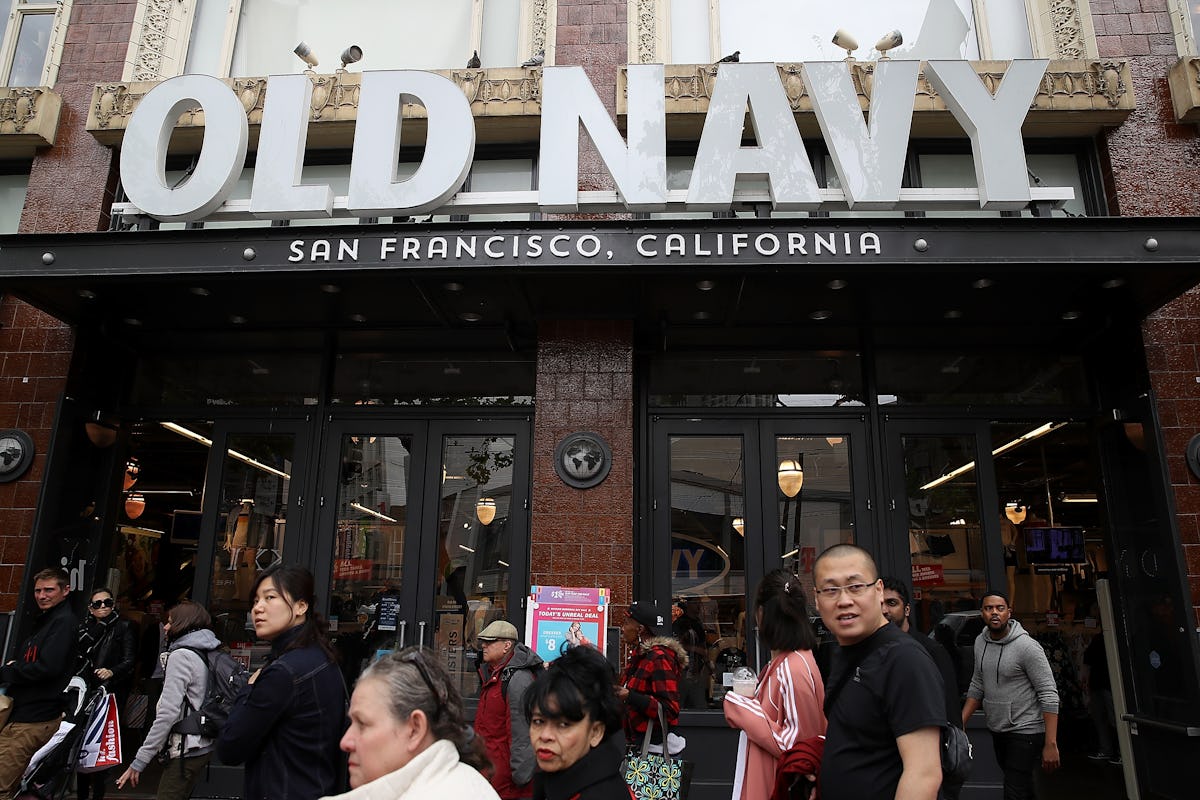 Old Navy's Columbus Day Sale Is Already Happening & Deals Start At $5, So Cancel Your Plans
Justin Sullivan/Getty Images News/Getty Images
I know you're probably gearing up for Black Friday but before you put all your eggs (read: the money you've saved up for it) in one basket, I think you should know about another bargain-slinging event. Old Navy's Columbus Day sale (or, as better put, Old Navy's Indigenous Peoples Day Sale) is offering incredible deals on an array of its products like graphic tees, jeans, dresses, and outerwear, and they start at just $5. Yep, the sale is just as good as any post-Thanksgiving deals you'll find and it's available to shop right now.
From now through October 9, you'll be able to score a selection of Old Navy's most well-loved styles at $5, $10, $15, and $20, depending on what you're on the hunt for. Tees will go for $5; long sleeve tees and graphic tops will go for $10; jeans, dresses and sweaters will go for $15; and outerwear, shirts, and pants will go for $20. To clarify, not all items within these categories are featured in the deal, so head over to Old Navy's site now to check out which ones are included. Because I know product overload is real, eight of the best pieces included in the sale are included in the post below. Sorry, Black Friday, you're just a little too late to compete.
Red Between The Lines
There's nothing more classic and universally cool than a simple striped long sleeve tee. This one comes in a cute red and white color way, which lends itself well to the holidays. Wear it with dark wash denim and white sneakers for a super fresh look.
Warm & Fuzzy
For those days when a full-on coat is too much but a sweater isn't enough. In a trendy oxblood color, this puffer is the one to go for.
It's Necessary
Everyone needs a standard black tee in their closet and this one is as basic (in the best way!) as it gets. Layer it with summery dresses to render them fall-ready or wear it on its own as a topper for comfy jeans.
Gray Scale
Sure, you've got your black skinny jeans, but what about a gray pair? I love wearing them with black tops for nights out in order to shake up my all-black-everything uniform every now and again.
Pattern Play
A simple printed swing dress is always a good idea, especially when it's easy to pair with anything and would look great paired with tights and heeled booties. A dress for all seasons.
Prep School
The double stripes on each arm of this hoodie give it a cool collegiate vibe, while its "love fiercely" monogram is a cute reminder to always live with passion. Paired with jeans it makes for the ultimate comfy weekend look.
Baby Blues
$20 jeans that are high-waisted and cropped? Say no more.
Wear Your Heart On Your Sleeve
Or pocket! This cute tee will throw out the good vibes all day long, and it'll do it with a cute retro flair.