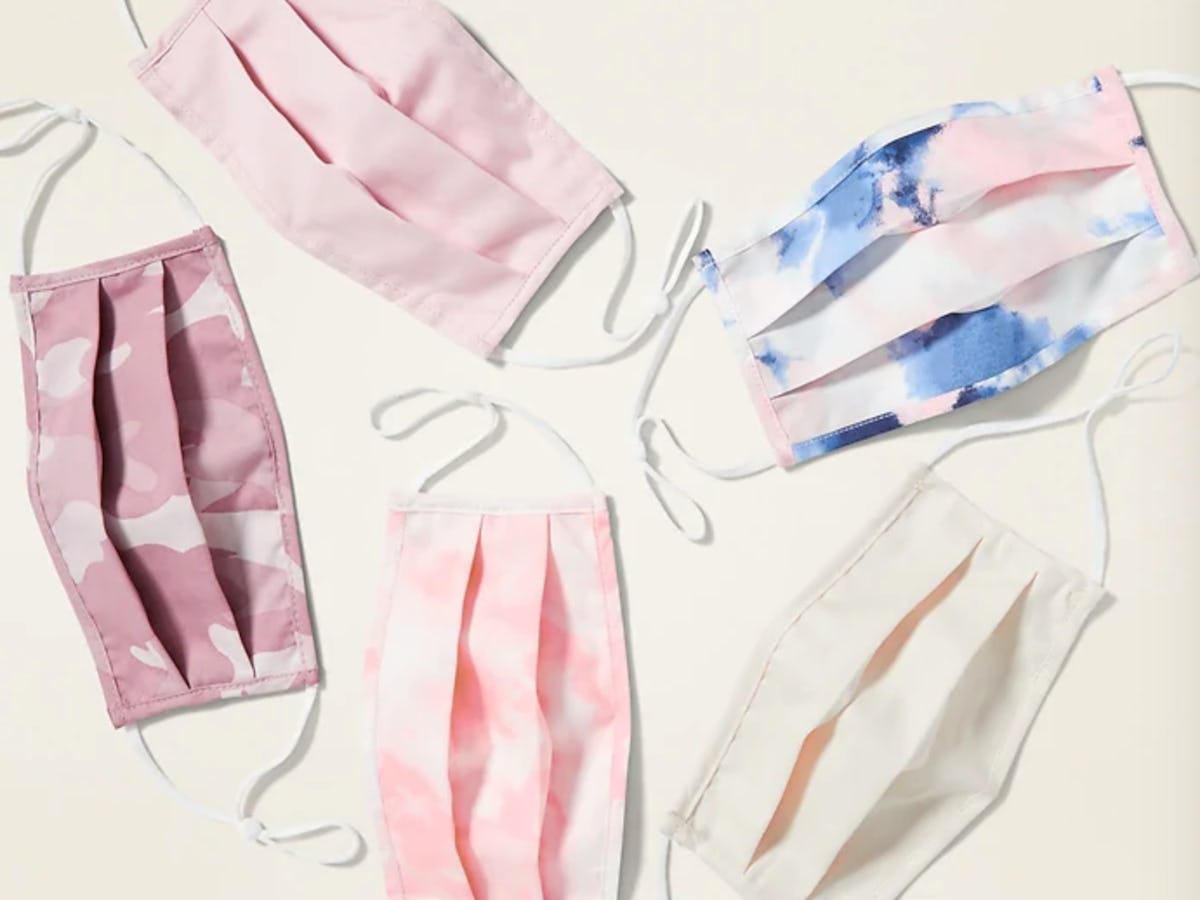 Old Navy Is Selling Packs Of 5 Cloth Face Masks For Less Than $13
Old Navy
No matter where the day may take you, if you plan on leaving your house during the coronavirus pandemic, you'll need a face mask for protection. Thankfully, Old Navy is selling affordable, sustainable cloth face masks, joining the growing list of fashion brands doing the same face masks. The masks were initially so popular, the brand has since added tons more styles after the first batches quickly sold out. Old Navy seems to have no shortage of masks now, but in the event your fave goes out of stock, you can always sign up on Old Navy's website to be the first to know when they're back in stock.
"[The] CDC recommends wearing cloth face coverings in public settings where other social distancing measures are difficult to maintain (e.g., grocery stores and pharmacies)," the Centers for Disease Control and Prevention has recommended on its website since early April. Since this advisory first came about, face masks have become a necessity in all states. And as it's currently unknown when life will return to "normal" (whatever that might look like) it's likely face masks will continue to be a staple in stores for the foreseeable future at least.
To get you and your loved ones ready for the long haul, you'll want to stock up on your face mask collection, and Old Navy has a sustainable, reusable option. Available for every age above 2, the masks are made from excess fabric, which cuts down on waste. The masks retail in variety packs of five or 10, with sizes for both adults and children. Each pack for adults features a range of different colors and patterns, from solid blues, greys, and other neutrals, to cool camo, tie-dye, animal print, and more. There's just as much variety in the kids' selection, with solids, animals, animal snouts, and even more.
We only include products that have been independently selected by Elite Daily's editorial team. However, we may receive a portion of sales if you purchase a product through a link in this article.
Most importantly, each mask is made according to the CDC's recommendations for non-medical-grade masks. The three-ply masks are machine washable to keep your face covering as clean as possible. The breathability of the cotton makes these masks more comfortable and light, so you can easily wear them throughout your errands. To give back to those in need, particularly during the coronavirus crisis, Old Navy also announced that it would donate 50,000 masks to the Boys & Girls Clubs of America.
Any face covering is better than none, but if you're looking to upgrade your bandana into a breathable, washable, and wearable mask, Old Navy's bright-patterned, cloth options may be just what you're looking for. Scroll on below for a look at just a sampling of the myriad face masks on Old Navy's virtual shelves, and if you're looking for kids' masks, specifically, click here: