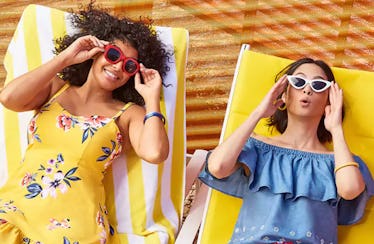 Old Navy's All In Sale Means 50 Percent Off Summer Styles, So Hurry & Go All Out
If you're in the mood to do some seriously discounted speed shopping, Old Navy's All In Sale will be well worth your digital shopping scramble. It ends tomorrow, meaning you literally have hours left to score its deals, but they're absolutely worth it. Trust me.
Head over to the retailer's site now and you won't be able to miss the details of the sale and its offerings. As emblazoned in rainbow graphics, all of Old Navy's tees are currently 50 percent off (they start at $6), all of its tanks and swimwear are 40 percent off (tanks start at $6, swimwear starts at $12); shorts and dresses are 30 percent off (women's dresses start at $19). And when Old Navy says "all," it means it — nothing from any of the aforementioned categories is off-limits. Mhm, get your virtual carts ready.
Whether you're in the market for a basic monotone bikini or a playful floral dress, the sale has got something (probably many things) for you. Whether you're shopping for a warm weather music festival, a beachy summer getaway, or you just want to give your existing wardrobe a refresh, I'd suggest perusing Old Navy's offerings asap. Seeing as its price slashing is so extensive, it might take you awhile to peruse all of the clearance offerings. Here are a few of its best items:
Easy Does It
There is no single more comfortable or convenient piece of clothing that the jumpsuit. Throw it on and your whole outfit is not only made, but is cohesive and cool. This jumpsuit features little white floral motifs and cropped wide leg pants. I'd pair it with white sneakers and sandals alike for a fresh summer look.
Do Stress
Because everyone needs a good pair of boyfriend shorts in their wardrobe. Featuring rolled hemlines and a slightly faded and distressed finish, this style is what breezy weekend style is made of.
To A Tee
One of the saddest parts of my last breakup was giving away three of my ex-boyfriend's T-shirts that he'd left at my apartment. They were so soft and big and cozy, and I loved sleeping in them more than anything. Unfortunately, they reminded me of (and smelled like) him, so off they went to the Goodwill. This tee would be an excellent and stylish replacement. I love its color palette, contrasting crewneck, and how well it would pair with denim.
Swim Good
This suit! How has it escaped my online shopping sprees in the past?! I love all things gingham, so naturally I'm obsessed with this one piece. The cutout and twisted neckline sweeten the deal.
Short Order
Drawstring? Check. Elastic waist? Check. Cute color? Check. Yep, these shorts are comfy cuteness at its best.
Feeling Blue
Yes to the slight boho vibe of this dress! The balloon sleeves give it that carefree quality and look proportionally perfect paired with the fitted waist. This dress is super versatile and could be dressed up and down via accessories for pretty much any event.
You Are My Sunshine
A simple tank with a cute floral pattern, this top is a summer staple. It can be paired with anything and will brighten up any outfit.
In The Flow
The perfect dress for outdoor summer brunches, birthday bashes, and beyond. Featuring an off-the-shoulder neckline, gathered waist, balloon sleeves, and sweet floral motif, it defines fresh romantic style.
Light Up The Room
Just looking at this crewneck sweatshirt makes me smile. It's emblazoned with a mantra to live by and features a fuzzy rainbow motif. :D