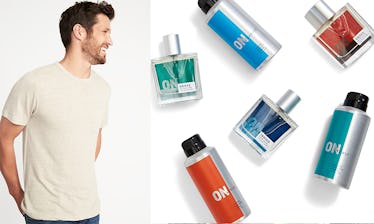 Old Navy Launched Men's Grooming Products, So The Guys In Your Life Can Finally Get It Together
Old Navy
I'm actually really lucky. My husband, Jerry, is a neat freak, he's so good with his skincare routine, and of the two of us, I can definitely be the messier one at times. But I've heard horror stories of my friends' husbands and boyfriends who can't even get it together enough to freshen up at all times. I mean, boys will be boys, but damn! Luckily for them (their partners, of course), the next time they shop for their cargo shorts and tee shirts, they can pick up the brand new Old Navy men's grooming products for under $20.
The brand known for its affordable men's and women's (and kids!) pieces successfully launched a range of women's beauty products in 2016. The section currently consists of a bunch of e.l.f. Cosmetics products, some Kindred Goods skincare items (this is Old Navy's private label brand), and some super cute Old Navy branded makeup bags and carrying cases. There's nothing in the world more convenient than picking up a perfect summer dress, some $2 sandals, and a handful of beauty products all at once. But since the ladies aren't the only ones who appreciate convenience, and live for a good shopping haul, Old Navy is showing the men some love, too.
The men's grooming brand is called ON (because of Old Navy, get it?), and will begin by rolling out a cologne and body spray. No word yet on if there will be a larger range in the future, but I can't imagine any woman complaining about the men in their life smelling amazing. I'm guessing if this goes well, this is only beginning of what will evolve into an entire section of the store that carries everything from men's face wash to hair gel.
The cologne is your classic 1.7 ounce glass bottle, minus the hefty price tag. This one will only run you $16, as opposed to some 100-something dollar options out there. It will be available in three scents (because guys need options, too!): Grove, a crisp blend of citrus, sage, and sandalwood; Indigo, an aquatic blend of mandarin, mahogany, and driftwood; and Ember, a spicy blend of bergamot, saffron, and cedarwood.
If the cologne is the briefs of the men's grooming world, the next item is the boxers. The body spray is the perfect addition to any guy's gym bag. It's a bit more relaxed approach than the cologne, as it feels less formal, and it can be spritzed on anywhere. Each bottle is $10 and is same as the cologne in that it's available in three scents. Tonic is an energetic blend of grapefruit, coriander, and sandalwood. Classic is a clean blend of bergamot, driftwood, and deep sea accord. Finally, Active is a masculine blend of sage, juniper berry, and dark amber.
I'm loving how the name is simple, and the packaging of the scents feels modern and minimal, without these items looking boring or stuffy. (It feels playful, which conveys the easy-to-use message.) So if you're itching for the men in your life to get it together when it comes to their grooming habits, the problem might not be that they don't want to smell amazing or look good — they just might not know where to start. But a delicious blend of sage, juniper berry, and dark amber seems like a good starting point to me!
Whether you make the wardrobe purchases for the guys you love, you do it together, or if their shopping trips are one very serious solo mission, make sure it's done in store at Old Navy, because these items won't be available online. That's OK, though. There's a whole world out there packed with Old Navy stores, so get out there and explore them.